How To Host A Greener Party
2 min read
We all love a good get-together, however, if you're conscious of your carbon footprint, you may be wondering how you can make your party more environmentally friendly.
In this article, we will explore some of the ways you can reduce waste, your carbon footprint, and still have the best party ever with your loved ones.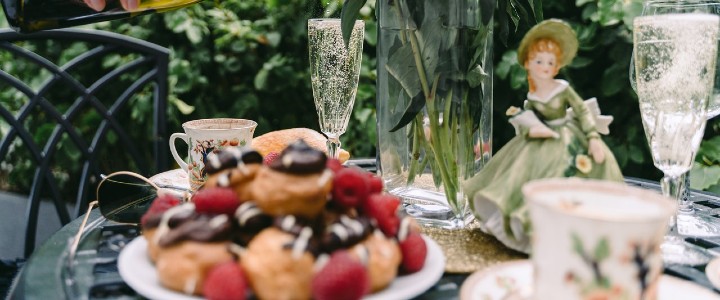 Venue
Choosing a venue and booking a date is often the first task when planning an event. Luckily, there are lots of options available for parties.
If you really want to book a commercial venue, then do a quick Google search for Eco-Friendly Venues. You will notice there are directory websites dedicated to promoting venues that have committed to being more sustainable. Sometimes, it's things like they are generating a lot of their electricity through solar panels, or for other venues, it may be that they have committed to only using local suppliers to reduce carbon emissions.
Either way, booking an eco-friendly venue is a great choice if you want an indoor event with a lot of guests. If you are planning a more intimate affair, then there are even more options open to you.
You could have your party at home if you choose to, and as someone who is already eco-conscious, your home is probably already pretty equipped for an environmentally friendly bash!
If you are happy being outside and you live somewhere with favorable weather, then having a garden or beach party is an absolutely beautiful way to celebrate. Not only are you going to use less in terms of electricity, but you can get closer to nature whilst you celebrate, and even light the night with candles, which add a beautiful eco-friendly touch.
Another option is a virtual party via zoom or another conferencing facility. These became popular during the lockdown, and it's a great way of getting people together without the carbon footprint of them all traveling to you.
Stationary
If you want physical stationery, then creating your own using recycled paper is an eco-friendly option.
There are also companies such as Greenvelope that specialize in bespoke, eco-friendly stationery and invitations. In addition to this, they also have a fantastic virtual invitations service, where you can send beautiful e-invitations to your guests and track who has opened them, their responses, and more.
Sending virtual invitations is going to reduce waste substantially, so for a truly green party, this is definitely something you should consider.
Food
If you're having your event in an eco-friendly venue, then you can liaise with them about locally sourced food.
However, if you're planning the party yourself, you're going to have much greater control of this.
Head out to local farm shops and see what they can offer you in terms of homegrown produce, and if you do have to use a supermarket, then only choose items with no surplus packaging, and ideally sourced in the US as well.
The way you serve food is also an area of consideration. Using reusable plates is the best thing you can do, but if you can't face all the washing up, then make sure you purchase paper plates that are not covered in plastic.
If you want to get really creative, beeswax sandwich wraps are a popular way of wrapping food to maintain freshness, and you can even make your own.
Drinks
Many drinks, especially alcoholic ones, are imported and therefore come with a large carbon footprint, however, if you search your supermarket shelves hard enough, you will find some local brews that are delicious and better for the environment.
Choose bottles that are 100% recyclable for an even more sustainable option.
Don't serve drinks in plastic single-use cups. Use glass, reusable plastic, or even get creative and create your own cocktails served in coconut shells for an extra special eco-friendly touch, which will wow your guests.
Party Gifts
If you're planning a children's party, use paper bags instead of plastic ones for their take-home party bags, and fill them with non-plastic gifts like crayons, coloring books made from recycled paper, and sweets.
If the party is for yourself, you could also ask for donations to charity instead of gifts that are going to produce less waste and give you that feel-good factor of contributing to a better cause.
Cleaning Up
It goes without saying really, but as you're cleaning up, ensure you recycle whatever you can. Around 90% of plastic doesn't get recycled, and as we know our oceans and wildlife are suffering badly as a result.
Do your part by recycling whatever you can.
Summary
By making your event eco-friendly, you can celebrate with your loved ones whilst doing your part for the environment. A few small changes and some advanced planning will make a huge difference to your party's carbon footprint. Now just to enjoy!