5 Biggest Wildfires in Canada and USA
2 min read
Climate change has been a major factor in increasing the risk and extent of wildfires over the past seven years. Common causes of wildfires include volcano eruption, temperature, soil moisture, and the presence of trees, dried shrubs, and other potential fuel. Although, more than four out of every five wildfires are caused by human carelessness.
However, a wildfire's danger does not end once the flame is extinguished. When rain falls on an untouched hillside with lush vegetation, the latter slows down the water flow until it trickles to lower ground. But with fires wiping out all trees, sloping lands struggle to soak up water.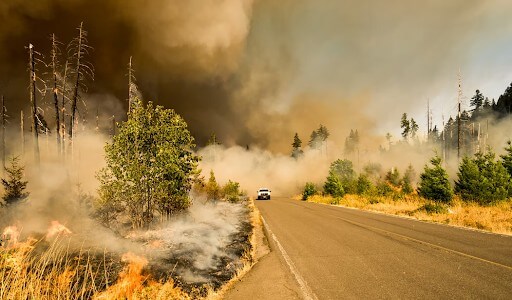 The flames also burn off waxy components that coat leaves which leave a sheet of a water-repellent layer just beneath the surface soil. These allow rainwater to run off in full force while picking up soil debris and rocks. All these make for a dangerous mudslide.
To paint a clearer picture of wildfire aftermath, here are 5 of the biggest American wildfires in recent memory.
1. Dixie Fire, Northern California
In 2021, the largest recorded forest fire in California was near Feather River Canyon in Butte County, California. It started on July 13, with the cause still unknown. The fire spread to more than 960,000 acres of land before being completely contained on October 25th of the same year.
The victims of the Dixie wildfire were forced to flee their homes amid powerful winds and extreme drought conditions. Because of this, homeowners, renters, business owners, and other individuals whose property and lives were destroyed by the Dixie Fire may be able to file a lawsuit against PG&E for injuries caused or property lost in the wildfires. You can see more on this page.
2. Bootleg Fire, Oregon
On July 6th, a wildfire started roughly 15 miles northwest of Beatty, Oregon. Twelve days later, the so-called Bootleg Fire merged with the Log fire which started on July 12. The investigation ruled out that it most likely started from lightning.
By damaging 413, 765 acres of land, it is considered the third-largest fire in Oregon's history. The burnt area is more than twice the total area of New York City. Many buildings were severely affected, destroying both outbuildings and houses. The Bootleg fire also affected the weather across the country, making skies vividly red which was visible as far away as Boston. It was only on August 15 that the fire was fully contained.
3. Fort McMurray Wildfire
On May 1, 2016, a wildfire started southwest of Fort Mcmurray, Alberta, Canada. It rapidly crept into the community forcing the largest evacuation in Alberta's history. Almost 88,000 people were called to leave their homes. The fire engulfed almost 1,500,000 acres of land. It was only fully extinguished more than one and half years later. No conclusive cause has been found yet. But human activity has been speculated.
The estimated cost of the damage is C$9.9 billion. This amount makes it the most damaging loss from a disaster in Canadian history. It burned down nearly 2,400 buildings, and another 2,000 were declared unsafe due to contamination. These homes were situated in Beacon Hill, Abasand, and Waterways, contaminated with arsenic and heavy metal contamination.
4. Bay Area Fire, California
The Bay Area Fire is one of the biggest wildfires in American history, sweeping parts of Washington, California, and Oregon. It is part of California's most damaging fire season ever. By September 15, 2020, it found its way to damage almost one million acres of land and had unfortunate casualties. The fire took at least 35 lives.
At its peak, a new area as big as Washington DC was burning every turn of the day. Thick smoke covered the atmosphere, and skies remained in a burnt orange hue for days. It resulted in a dangerous air quality which led researchers to believe it caused more deaths in California cities.
5. Taylor Complex Fire, Alaska
In 2004, the Taylor Complex fire was declared the largest recorded wildfire in the US since 1997. It posed limited damage to buildings. However, it still scorched more than 1.3 million acres of land in eastern Alaska near the Canadian border. It was also part of one of the worst Alaskan fire seasons with more than 6,600,000 acres of land burned. Temperatures in some areas reached more than 90 degrees.