How Bay Windows Can Improve a Living Room or a Family Room
3 min read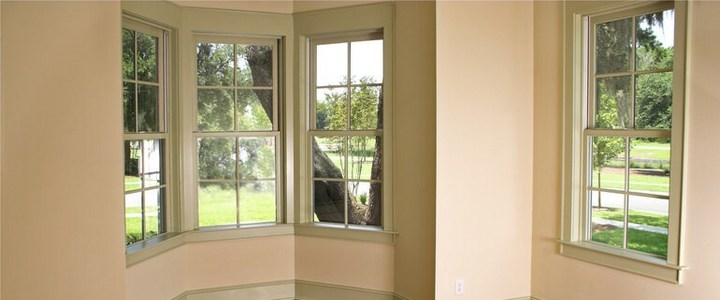 Bay windows are the new way to spruce up your living space. But why? Now that more people are spending their time at home, it's time for a redesign. Many houses nowadays look very similar, but that doesn't have to be the case for yours. And where better to start with than the windows? After all, they are a classic and very prominent feature of the home, and a simple switch out of the traditional style for the timeless elegance of the bay window can make all the difference.
In this article, we are going to go over what bay windows are, their costs, what their advantages are, and how you can get yours today!
What Are Bay Windows?
Bay windows are a style of window that has been around since the 1500s. Despite having existed for about 500 years, they have aged beautifully and remain one of the most popular styles of window in the modern era. What makes bay windows so interesting and versatile is that they are composed of multiple panels, offering variations in style and design to liven up your living or family room and suit even the pickiest of home designers.
The Many Variations of Bay Windows
Given its versatility, it's no surprise that there are many different types and styles of bay windows. However, these variations can be sorted between configuration, type, and style. In regards to configuration, they can be "double-hung" or "casement" windows. The former is when the whole panel can open up for ventilation via a crank, while the latter allows you to open the window in sections to augment the amount of breeze you want in your home.
As for the type of bay windows, there are four: canted bay, box bay, oriel, and circle bay.
Canted bay windows are of the classical variety and are usually only found on the ground levels. Box bay windows are structurally similar to the first except the side windows meet the first at a right angle to form a box shape alcove. Oriel windows are the oldest of the types and have support underneath. Because of this, they can be placed on any floor of the house. The last type is the circle bay window, which is typically the most ornate and uncommon.
And finally, there are five different styles of bay windows: Victorian, Tudor, mid-century, modern, and craftsman. Victorian bay windows possess the details of the oriel type of window with the classical canted bay structure. Tudor bay windows consist of oriel windows supported by wood structures. Mid-century modern bay windows are clean, sleek, and minimalistic. Modern windows are not as detailed as the traditional style but have segmented planes for a more contemporary feel. And last but not least, craftsman windows are known for their ability to expand a living room space and provide seating.
Some people prefer the comfort and security that comes with double glazed windows. Double glazed windows can certainly help keep out unwanted noise along with maintaining a lower heating bill in the winter.
Top Five Bay Window Advantages
Now that we can distinguish the differences between the various forms of bay windows, let's talk about their numerous features. Bay windows are not only aesthetically pleasing, but they also have many functionalities as well that serve to improve the overall state of your living space. The following list covers the top five bay window advantages.
Increases the Value of Your Home
Bay windows tend to be an upgrade for classic windows as it is more of a specialized feature. Because of its standout style and ability to open up a once small living or family room, it will increase your real estate value and be a great investment.
Improves Internal Lighting
Bay windows offer better illumination. They are built larger than the average window, typically with three separate ones to be specific, and so more natural sunlight can stream in and really make the room glow. Having more sunlight filtering through can also have health benefits as well, including having more natural energy and being a mood booster.
Gives a Better Outside View
Bay windows can offer you a wider, panoramic look at the outdoors. Because of its structural protrusion, you will be able to see more parallel to the wall than you would with a traditional window.
Higher Design Quality
Bay windows add an element of sophistication and are not typically found in most homes. They may also require structure supports such as wood or stone masonry. Typical windows do not usually need this.
Increases Ventilation
Bay windows offer more surface area of a wall to open to the outside, which allows the homeowner the ability to change how much air can come in. Traditional windows tend to be smaller and are parallel to the wall, however bay windows are angled and may be able to catch a breeze better if it is coming in from a different direction.
Adds Versatility to your Living Space
The last of the bay window advantages is that it can physically offer your interior area. This style of window not only physically adds square footage, but it gives you a myriad of options to alter that extra space. For instance, you can add a wood bench and put cushions on top, effectively converting it into a seating area. It would be perfect as a reading nook since it would be well illuminated for a decent part of the day, as well. You can also add shelves below, put in potted plants, or put in a chest for storage. Your creativity is the only limit!
How Much Does a Bay Window Cost?
Bay windows and their many advantages do not come without a cost, of which it can be quite steep. But like all things, it depends on many factors. For instance, the bay window price and installation cost can depend on what room you want it in, the company you choose, and what type of window you would like, among other things.
According to Modernize, it can cost between $1150 and $3550 with the average cost being $2350. However, it is best to consult with companies in your area. Many of them will offer free estimates, giving you a better idea of pricing.
How Can I Get a Bay Window Today?
Despite its seemingly high cost, a beautiful bay window is well worth its weight in gold. It contains many advantages and can even increase your home's resale value. What is not to like about such a timeless feature that contains a variety of benefits? It is definitely a worthwhile investment for any homeowner to consider if they want to remodel their current living or family room and possibly sell their home in the future.
Purchasing a bay window should not be difficult. Professional window installation firms will take all the hassle out of the process. They will ensure that your bay window is installed with only the best practices and offer a wide range of high-quality features, not to mention at the best prices, so you know you can trust that you're in the best hands.