Battery Electric Vehicle Architecture
December 5, 2018

-

December 6, 2018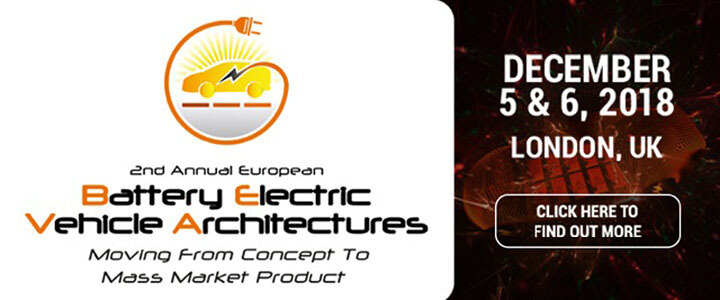 Addressing Electric Vehicle Architecture, Battery Management And Powertrain Integration Challenges for OEM's
Innovations in vehicle architecture that allow for a fully integrated vehicle will ultimately drive cost-effective manufacture of EVs for the mass market. Integration of the battery and systems within the vehicle structure remains a top challenge for established OEMs and new EV manufacturers alike.
Developed for Chief Engineers and System Engineers, as well as Technical Specialists responsible for fully electrified and hybrid powertrains, battery packaging, thermal management and EV safety, the B.E.V.A. Congress is geared to a whole vehicle perspective, focused on ensuing EV development, manufacturing and production is scalable and more efficient.
Our Brand New 2018 London Agenda Directly Addresses The Real Practical, Technical and Commercial Issues Around EV Development from a Vehicle Architecture and Systems Integration Point of View:
How to produce BEVs, PHEVs and FCVs efficiently at an acceptable cost for the mass market
Ensuring synergy between EV design and cost-effective manufacturing and assembly processes
Evaluation of alternative approaches to optimising thermal management and cooling and internal management of the battery
Advanced concepts for body structure and integration including battery protection systems for next generation Body In White (BIW)
Understanding the road map and future potential for lithium ion, lithium sulphur and solid-state batteries as well as advances in fuel cell technologies
Attribute balancing and architecture optimisation to meet crash safety and noise, vibration and harshness (NVH) performance objectives
Efficient e-driveline and transmission systems for EV performance enhancement
Status of safety regulation, crashworthiness and best practices in fire protection for EVs
Priorities for efficient fast charging technologies and service infrastructure in Europe
Please note that starting from 27th February 2020, we are no longer accepting new media partnership proposals. Thank you for your interest!