3 eco-friendly outdoor activities
1 min read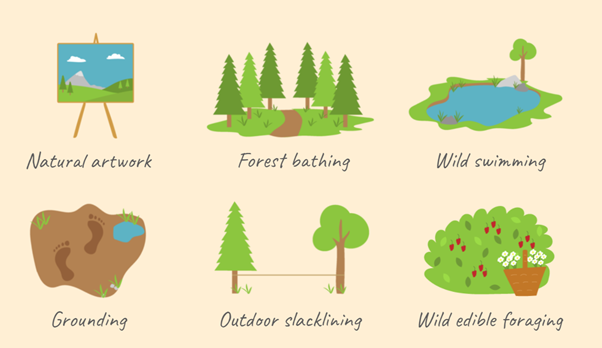 As the temperature slowly starts to drop, a lot of families see this time of year as an opportunity to cosy up at home and spend time together doing indoor activities such as baking and watching their favourite films. However, spending so much time indoors can affect negatively on the environment with higher food wastage and CO2 being emitted from streaming activities. There are plenty of fun things to do outdoors that will keep the whole family busy and are beneficial for the environment as well as the mind, body, and soul.
This autumn find new ways to connect with nature in a sustainable manner such as foraging, grounding and wild swimming. Regatta has put together a list of outdoor activities for their Harnessing the Power of Nature campaign, so if you are looking for some new eco-friendly ventures to try out this autumn, here are some that the whole family can enjoy.
Foraging
Did you know that Halloween pumpkins account for 18,000 tonnes of food waste a year? According to Hubbub in the UK, we purchase over 9 million pumpkins for Halloween alone, most of which end up as wastage.
This year instead of using pumpkins to make scary faces try creating something with them using other elements from nature by foraging. Foraging for ingredients is both therapeutic and practical and can even be an alternative to trick or treating! Have the whole family dress up and head to your local woodland to discover hazelnuts, sloes and sweet chestnuts before heading home to cook up a storm.
When foraging it is important, you know what you are picking so be sure to educate yourself before heading out, or head out with an expert.
Create With Nature
Nature can be beautiful throughout the different seasons but especially during autumn, with hues of orange, reds, yellows and greens all around. There's no better time to start creating homes for the your backyard friends. Start pick up your paintbrushes and get creative at this time of year. You could go to a local park, woodland, or your very own garden and have each person create their own piece of autumnal artwork.
Not only does this give you a change of scenery, but being outside and painting can help you feel relaxed and happy. Being outside will give you some fresh air and you can also go on a walk to discover new places to inspire your artwork.
Improve your strength with slacklining
If you are looking for an outdoor activity to try that's a bit more physical than the others we've mentioned, then you should consider outdoor slacklining. This can help improve your strength and balance and involves a slackline being tied between two trees. Your family can take it in turns to walk from one tree to the other.
You can do this at home if you purchase a slacklining kit or you can check out local groups on Facebook and meet up in parks or woodland for a fun day out. Not only does slacklining help with strength and balance, but it can also help improve focus and confidence and it's a fun activity that all the family can participate in.
These activities are not only good for the environment and your mental wellbeing but are educational for little ones, highlighting the importance of nature whilst enjoying all it has to offer. If you have any outdoor activities you'd like to share do so using #RegattaExplorers