7 Key Ways Businesses Are Going Green
2 min read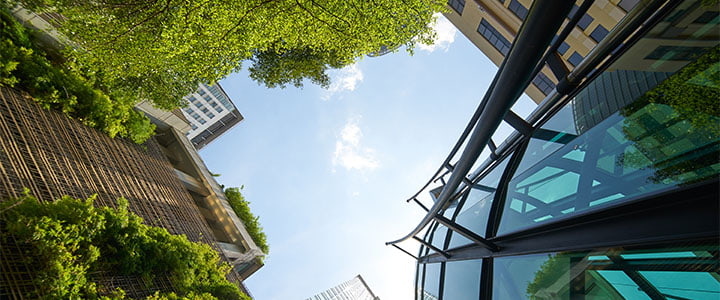 Companies that adopt green business practices see benefits both predictable and surprising. While most professionals are well aware of the value of alternative energy and a reduction in unnecessary expenditure, a business that treats the environment with respect enjoys additional advantages.
A corporate culture that supports sustainability is often attractive to its employees, promoting a higher degree of engagement and retention. It stands to reason, then, that so many businesses are making the transition toward eco-friendly policies. Let's take a look at what that transition entails. From small changes to more significant restructuring, here are seven key ways businesses are going green.
1. Remote Workforce
The daily commute to and from an office contributes to carbon emissions, and the energy expenditure involved in keeping a workspace comfortable for employees quickly adds up. In allowing them to work from the comfort of their home, businesses see a significant cut in their utility costs and waste output. They enjoy other advantages as well, including a decrease in real estate costs at an average of $10,000 per year for every telecommuter.
2. Policies and Additions
Upper management can implement changes in policy to lessen the carbon footprint of their company. Encouraging employees to choose reusable water bottles over bottled water manages excessive waste, and the installation of bike racks on a commercial property gives cyclists a place to secure their transportation. In showing that they're aware of their impact, a business sets a positive example for workers.
3. Energy-Efficient Lighting
Smaller adjustments in lighting don't always require the service of a professional technician, depending on the scale of the changes a company chooses to implement. Substituting the old light bulbs in an office with more efficient LED models is a relatively simple procedure, saving business owners a large sum on energy expenses while drawing far less power to light their workspace.
4. Eco-Friendly Paper Products
Between reports, records and manuals, the average office consumes massive quantities of paper. Many businesses have adopted recycled paper products, employing other methods like double-sided printing and digital documentation to cut down on their expenditure. Repurposed scrap also aids in conserving resources, making use of excess paper instead of throwing it into a receptacle.
5. Bulk Bags for Shipping
Companies that reuse bulk bags in transportation enjoy enormous savings on shipping expenses. These bags are a far more cost-effective method of delivering goods, with 2,000 bulk bags requiring the same amount of space as 12,000 standard boxes. A business can continually cycle these bags through a simple reclamation process, so renewing their supply is often unnecessary.
6. Second-Hand Furniture
Furnishing an office with used office chairs and tables reduces waste that would otherwise end up in a landfill, accumulating over time. The age of these items doesn't always denote poor quality, as many failed businesses sold their furnishings to other operations after the recession hit. With careful browsing, business owners on a budget can find recycled goods.
7. Recycling Electronics
Disposal of electronic equipment requires a different protocol than normal trash. Known as "e-waste," computers and other devices contain toxins like mercury that harm the environment, necessitating a special collection system. Business owners account for this issue by informing their employees on the procedures they should take when discarding old or broken technology.
8. Reduce Plastic Use
Plastic is undeniably having a huge impact on the environment. You only have to go to do a food shop to see how much plastic is being used in packaging by almost every company. In their article on plastic pollution in the UK, the industrial cleaning company Ideal Cleaning highlighted how 70% of litter in the oceans is plastic, which shows just how big the problem is. Their article goes on to explain how businesses can do more to reduce this statistic. For example, banning using paper straws rather than plastic and banning plastic packaging on fruit and vegetables
A Growing Business Goes Green
With all the advantages that eco-friendliness entails, upper management should research methods to improve their structure and policies. It doesn't require an enormous change, and it's often as simple as replacing an older model of light bulb with a more efficient alternative.
When a business owner plants the seeds of sustainability, they'll yield high returns. Find out for yourself!
Bio
Emily Folk is a conservation and sustainability freelance writer and blogger from Lancaster, PA. Check out her blog, Conservation Folks, or follow her on Twitter for the latest updates!