World Congress and Expo on Recycling
August 29, 2018

-

August 30, 2018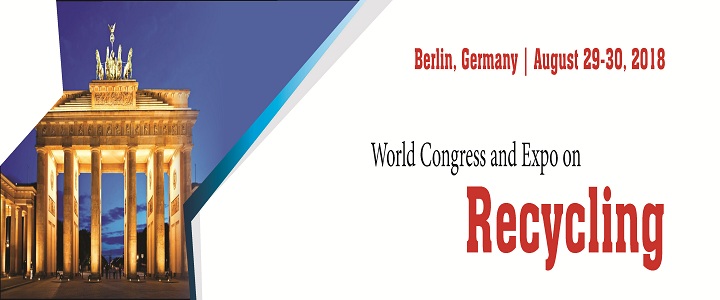 Meetings International  is delighted to invite all the participants globally to attend "World Congress and Expo on Recycling" to be held during August 29-30, 2018 in Berlin, Germany.
Meetings International (Meetings Int.) is a global leader in producing high quality conferences, meetings, workshops and symposia in all major fields of science, technology and medicine. Since its inception, Meetings Int. has been associated with national and international associations, corporations and high level individuals, dedicated to host world class conferences and events. Meetings Int. supports broad scope research and peer review at a broad range of specialists around the world. The key strategic objective of Meetings Int. is to communicate science and medical research between academia, and industry. Through inspiring sessions and tons of networking, you will learn to be even more audacious and bold than you are now and free to grow your mind, grow your business, and grow your bottom-line.
Recycling congress gathers all the Global leaders in Recycling and relevant fields to share their research at this exclusive scientific program. Recycling congress is aimed to identify Advances in recycling which broadly covers Solid waste recycling, organic waste recycling, waste water recycling, agricultural waste recycling, sustainable production and consumption patterns, Life Cycle Analysis of Recycled Products, Environmental  Issues of Recycling, Material flow analysis, Life cycle assessment and management of resources etc.
Recycling congress is expecting members around the world and the two day conference will incite Plenary sessions, Keynote speeches, Poster and Oral presentations. This congress gives two days of vigorous discussions on recent advancements, new strategies and new techniques for development of new materials for global requirements.
Berlin is the capital and the biggest city of Germany and in addition one of its 16 constituent states. With a populace of roughly 3.7 million, Berlin is the second most crowded city legitimate in the European Union and the seventh most crowded urban territory in the European Union. Situated in northeastern Germany on the banks of the streams Spree and Havel, it is the focal point of the Berlin-Brandenburg Metropolitan Region, which has around 6 million inhabitants from more than 180 countries.
The main theme of the Conference is " Sorting Out Waste: Valuing it as a resource" which covers a wide range of critically important sessions.
Recycling Congress2018 Highlights:
World Congress and Expo on Recycling is the best platform where you can deliberate the novel methods for all the budding scientists and researchers to present their real-time work and share their views and aspects related to the theme of the conference .This congress had especially expressed with the different topics like
Recycling
Industrial waste recycling
Chemical Waste Recovery
Food & Agricultural Waste recycling
Waste Management Techniques
E-Waste Recycling and Management
Thermal Waste Recovery
Renewable energy
Waste Management Techniques
Biological Waste Management
Construction Waste Management
Processing of Recycled Materials
Recycling of Hospital Wastes
Life Cycle Analysis of Recycled Products
Recycling Market
Entrepreneurs Investment Meet: Recycling Expo-2018
Why You Should Attend Recycling Expo 2018:
Learn how to exploit the present market to maintain and develop your business from the leading specialists in the field of plastics recovery and its usage. This congress will give a forum to exchange  recent research results among researchers from across the globe focused on learning and sharing expertise upon use of Recycling and for discussion of future challenges in implementation and application of current technologies and advances in this field. With members globally the world focused on learning about Recycling and waste management, this congress is best Opportunity to Meet World-renowned speakers and to learn and share the most recent techniques, theories and technologies in the field of Recyclingand Waste management.  It covers lot of topics and it will be a very good platform to show case  recent researches on recycling and waste management and other interesting fields.
Target audience:
Recycling Industries
Waste management associations
Recycling associations
Ecologists
Recycling researchers
Business entrepreneurs
Environmental academia's
Training institutes
Chemical engineers
Environmental Engineers
Please note that starting from 27th February 2020, we are no longer accepting new media partnership proposals. Thank you for your interest!