International Workshop on Waste Architecture / Waste Management in Landscape and Urban Areas
October 1, 2019

-

October 2, 2019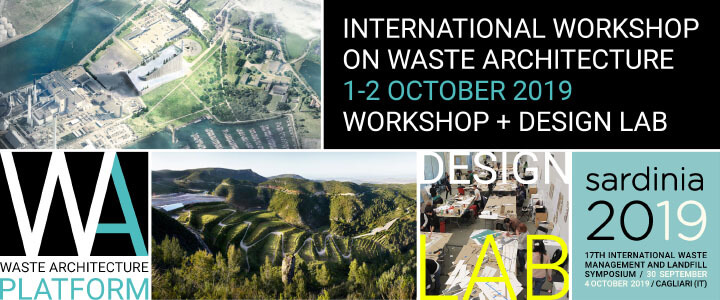 Following on from the interesting experiences of 2015, 2017 and 2018, Arcoplan Associates is launching the next event of WA Platform, the International Workshop on Waste Architecture / Waste Management in Landscape and Urban Areas conceived as a parallel event of Sardinia 2019, 17th International Waste Management and landfill Symposium, to be held from 30th September to 4th October 2019 with an estimated attendance of 800 delegates from tens of different countries worldwide.
The Workshop consolidates for this third edition a stimulating partnership making the Sardinia Symposium the ideal context in which to discuss Architecture and Waste in an international setting amongst not only environmental experts, but also architects, landscape architects, urban planners, etc.
Structure and Preliminary Programme
The Workshop will be held at Forte Village Resort on 1-2 October 2019. The first day will be devoted to the presentation of oral contributions organised in thematic sessions, followed by opportunities for discussion and debate. On the second day a practical landscape design lab session will be coordinated by tutors who will guide each group in the elaboration of a final concept for the valorisation and/or requalification of the proposed facility.
Call for Papers
Authors wishing to take part in the oral sessions should submit their papers no later than 15th June 2019.
Researchers, professionals and experts in the field are invited to submit their proposal on one or more of the following topics:
Waste architecture and landscaping: Requalification of landfills
Waste Architecture and industrial buildings: Architecture of buildings for waste treatment (incinerators, composting plants, etc…)
Waste Architecture and urban areas: Architectural and technical aspects in planning municipal waste treatment and collection systems (waste separation areas, separation and collection facilities, recycling plants)
Authors wishing to take part in the oral sessions should submit their full papers no later than 15th June 2019. Papers should be prepared using the template provided and submitted using the online submission form.
Please note that starting from 27th February 2020, we are no longer accepting new media partnership proposals. Thank you for your interest!