Wind Power Big Data and IoT Forum (9th Edition)
December 4, 2019

-

December 5, 2019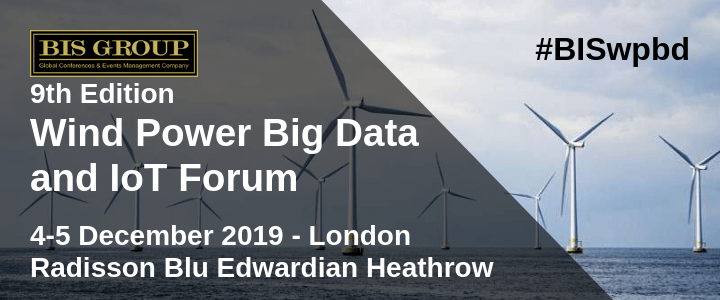 The 9th Edition of Wind Power Big Data Forum will disclose practical insight for the Big Data management in order to improve Wind Power farms reliability, sustainability, and overall performance. Attendees will gather to discuss the importance of data-driven predictive maintenance and develop an optimized strategy for the Wind Farm performance.
Key topics on the agenda:
• A wind farm: blowing towards a digital future
• Leveraging data analytics to reinvirogate O&M
• Digitalisation impact on cost reduction & business models
• Advanced condition monitoring and predictive maintenance
• Data driven inspection and fault diagnosis
• Wind flow modelling and component reliability
• AI & machine learning applications
• Automation and cyber security
In the Chair: Christopher Gray, CEO at i4SEE TECH GmbH
Registration Link: https://bit.ly/2ktEoAz
Contact Details: Lina Kozina, Project Manager (linak@bisgrp.com)
Updates on the Forum:
LinkedIn: BIS GROUP
Twitter: #BISsspv
Facebook: BIS Group s.r.o
Please note that starting from 27th February 2020, we are no longer accepting new media partnership proposals. Thank you for your interest!