Wind O&M Canada 2016
November 29, 2016

-

November 30, 2016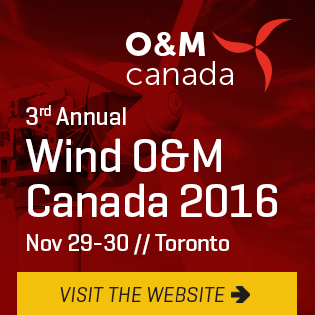 Wind O&M Canada 2016 (Nov 29-30, Toronto) is Canada's #1 event for wind O&M business leaders and service specialists.
What to expect at the 3rd Annual Wind O&M Canada 2016:
NEW O&M CASE STUDIES: Get a grip with O&M anytime, anyplace, any weather when you evaluate only the most innovative blade, gearbox and bearings techniques used by owners now to truly boost AEP

SMART DATA & DECISION MAKING: Benefit from exclusive owner-led CMS case studies that demonstrate in detail how CMS systems have been used to identify symptoms and expedite fault remediation with net revenue benefits to Canadian wind farms

SPOTLIGHT ON WARRANTY: Face up to the challenge of post-warranty transition, understand what service model works at what fleet scale and take home unique lessons learned from the best self-service owners, OEMs & ISPs north of the border

PEOPLE DOLLARS & SAFETY: Learn how to rethink human capital when you receive exceptional peer led insights covering scheduling, maximization of people dollars and the safeguarding all your resources to achieve more but risk far less
Please note that starting from 27th February 2020, we are no longer accepting new media partnership proposals. Thank you for your interest!