The 12th IEA Heat Pump Conference 2017
May 15, 2017

-

May 18, 2017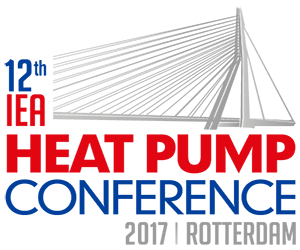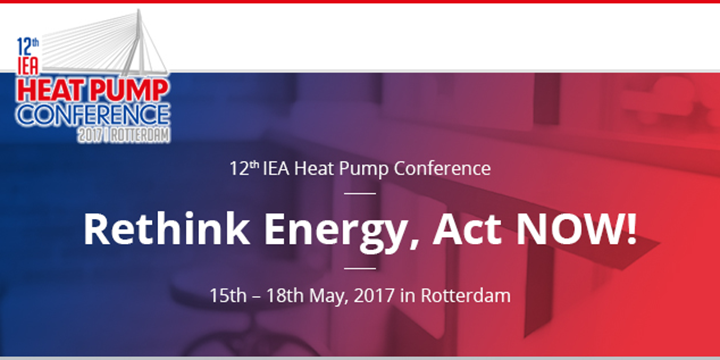 The 12th IEA Heat Pump Conference 2017 will be held in Rotterdam with the theme: 'Rethink Energy, Act NOW!'
The Conference will start with workshops and will continue after a plenary opening session with three days of presentations. Keynote presentations will open each morning and afternoon session.
The workshops on the first day of the Conference will be on:
Nearly Zero Energy Buildings for renovation

Smart Communities and District Heating

Ground sources

Air Conditioning

Industrial Heat Pumps and Waste Heat

Combination of Heat Pumps with Solar Energy
After the plenary opening session the Conference will continue in four parallel tracks of presentations. The very successful call for papers have generated more than 200 high quality papers. The Conference has the unique opportunity to present, in these four main conference tracks, topics directly related to the work under the IEA program for Heat Pumping Technologies in the now ten running international collaboration projects (Annexes) and two new ones under development.
You will get sessions on:
Track 1: Supermarkets, Cold Climate Heat Pumps, Nearly Zero Energy Buildings, Multi Family Buildings and Domestic Hot Water.

Track 2: Hybrid Heat Pumps, Smart Grids, District Heating, Storage and Ground Sources

Track 3: Air-Conditioning, Industrial Heat Pumps and Waste Heat

Track 4: Working Fluids, Sorption Technologies, Gas Driven Heat Pumps and Non Vapour Systems
Each of these tracks will have up to 40 oral presentations and a large number of poster presentations. There will be an Award for the Best Poster that will be handed at the plenary closing session.
Please note that starting from 27th February 2020, we are no longer accepting new media partnership proposals. Thank you for your interest!