Solar Asset Management Europe
November 9, 2016

-

November 10, 2016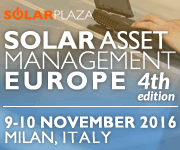 For the fourth year in a row, Solar Asset Management Europe will bring together the leading investors, owners and service providers in the European PV industry. The event provides an unparalleled networking opportunity, as well as the best way to learn about innovations and best practices for optimizing performance, management and financial returns of PV assets.
For more information check the link below.
Please note that starting from 27th February 2020, we are no longer accepting new media partnership proposals. Thank you for your interest!