Saudi Arabia Renewable Energy – Solar & Wind 2019
January 22, 2019

-

January 23, 2019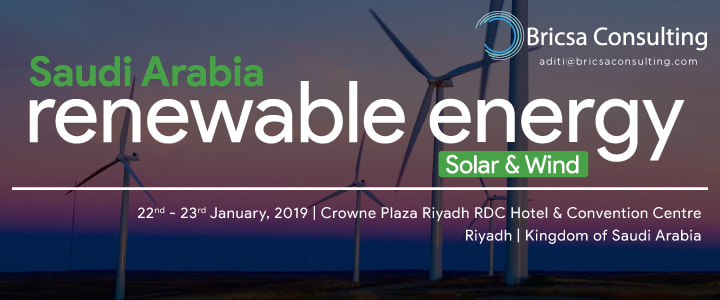 Saudi Arabia Renewable Energy – Solar & Wind 2019 is a 2-day conference that is being hosted on 22nd – 23rd January 2019 at Crowne Plaza Riyadh Minhal in Riyadh, Saudi Arabia. This conference focuses on the future of Renewable Energy in Saudi Arabia with further discussions about Technological Enhancements, Oman's Miraah Project, Masdar Initiative, Prospective Development Sites, Electric Vehicle Market, and Dubai Clean Strategy 2050. It also discusses the potential for growth of the Kingdom in regards to reducing Carbon Footprints. It's a platform to discuss and debate best practices which can be instrumental in maximising the power sourcing in the region.
To get further details kindly send us an email to aditi@bricsaconsulting.com or contact Ms. Aditi Jain on +91 22 4880 3430
To download the conference agenda, kindly click on the below-given link:
bricsaconsulting.com/event/saudi-arabia-renewable-energy/
Please note that starting from 27th February 2020, we are no longer accepting new media partnership proposals. Thank you for your interest!