Solar PV World Expo 2020 (Formerly: PV Guangzhou)
August 16, 2020

-

August 18, 2020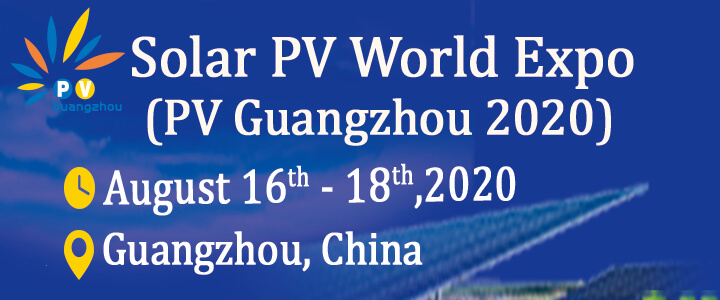 As the largest solar PV expo in South China, Solar PV World Expo 2020 is going to cover a show floor to 40,000 sq.m, with 600 quality exhibitors displaying all range of pv products. We have welcome featured exhibitors like JA Solar, Chint Solar, Mibet, Yingli Solar, LONGi, Hanergy, LU'AN Solar, Growatt, Goodwe, Solis, IVNT, AKCOME, SOFARSOLAR, Toyray Solar, SAJ, CSG PVTECH, UNIEXPV,  Afore, Kingfeels, Fivestar Solar, Horad, Sangong Intelligent Equipment, SINHONGHUA, AUTO-ONE,  Yeniu Automation,  APsystems, SAKO, Sunrise, Aerpal, ALLGRAND BATTERY, NPP Power, ALLTOP Photoelectric, Remote Power, Senergy, Titanergy,  Amerisolar, Solar-log, Sopray, etc.
Concurrent Expos
Asia (Guangzhou) Battery Sourcing Fair 2020
Asia-Pacific Bioenergy Exhibition 2020
China Heat Energy Exhibition (Heat China 2020)
Asia Pacific Power Product and Technology Exhibition (Power China 2020)
Asia-pacific Water Heating Exhibition(AWHE 2020)
Exhibits
Raw Material
PV Panel/Cell/Module
Inverter/Controller/Connectors/Cables
PV Bracket/Accessories/PV Systems
Production /Monitoring/Testing Equipment
PV Application/Solar lighting
Mobile supplies/Storage Battery
Others
Please note that starting from 27th February 2020, we are no longer accepting new media partnership proposals. Thank you for your interest!