2 min read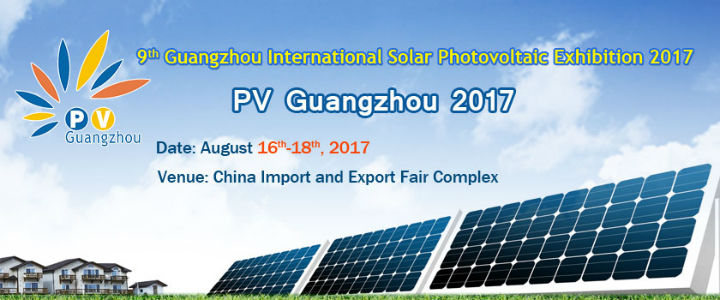 Review of PV Guangzhou 2016
PV Guangzhou 2016 attracted 200 international famous enterprises to display the latest products and technology, such as Yingli Solar, 3HZ-SOLAR, Guoyu, JCN New Energy, I-Panda, APC, Benayang, Future Solar, Solar Naturally, eSino, Singfo Solar. The Organizing Committee worked closely with more than 300 domestic media and 110 international media to give a full coverage of PV Guangzhou 2016. The exhibits covered a wide range of PV products including raw material, main and auxiliary materials, machinery and equipment, photovoltaic cells, PV modules, photovoltaic engineering and photovoltaic applications etc.
Totally, there were 20,054 professional buyers to visit the exhibition, who are mainly from China, USA, Canada, France, Italy, Australia, India, Singapore, Vietnam, Pakistan, Iran, Spain, South Africa, Brazil, Indonesia, Egypt, UAE, Korea, Thailand and other countries and regions.
Prospect of PV Guangzhou 2017
PV Guangzhou 2017 will be held in China Import and Export Fair Pazhou Complex from August 16 to 18, 2016. Preparing 350 exhibitors with 20,000sq.m, there will exhibit photovoltaic cells, PV project and system, photovoltaic power, photovoltaic production equipment and material. With support of 300 international media and 30 CCTV-based mass media, PV GUANGZHOU is dedicated to creating the most influential Solar Photovoltaic trading platform in Asia.
Exhibition Contents:
◆Photovoltaic production equipment:
Silicon rod silicon block silicon ingot production equipment:
a full set of production lines, ingot furnace, crucible, growth furnace and other related equipment
Silicon wafer production equipment:
a full set of production lines, cutting equipment, cleaning equipment, testing equipment, and other related equipment
Battery production equipment:
a full set of production lines, etching equipment, cleaning equipment, diffusion furnace and covered equipment/deposition furnace, screen printing press, other furnace equipment, test instrument and separator, battery plate other related equipment
Solar panels/modules production equipment:
a full set of production lines, test equipment, glass cleaning equipment, tie lines/welding equipment, laminated machine
Film version of the battery production equipment:
amorphous silicon cells, the copper indium gallium selenium battery CIS / CIGS, CdTe cadmium telluride film battery, battery DSSC Dye-sensitized
◆Production technology and research equipment
Photovoltaic cells:
photovoltaic cell manufacturers, solar modules' manufacturer, solar modules' installation company.
Related PV components:
batteries, chargers, controllers, converters, recorder, inverter, monitor, support systems, tracking systems, solar cables
PV raw material:
silicon material, silicon ingots/silicon block, silicon, glass packaging, packaging film and other raw materials
PV project and system:
photovoltaic systems integration, solar air-conditioning systems, rural photovoltaic power generation system, solar testing and control system, solar heating systems project, solar and photovoltaic project management and process control software, as well as its program system.
◆Solar products: 
solar street lamp, lawn lamp, yard lamp, beacon lights, agricultural insecticide lamps, chargers, lights, traffic warning lights and other solar information display screen.