Power Project Finance
September 7, 2020

-

September 11, 2020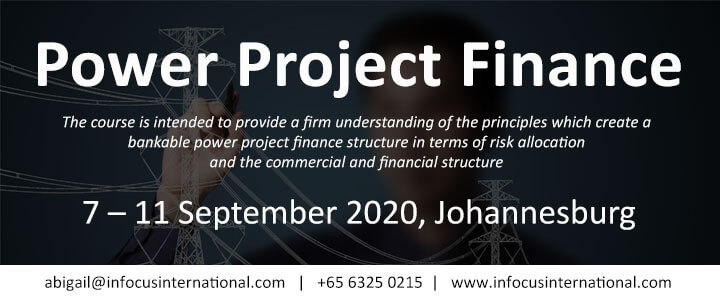 Overview
Project finance is widely used for large infrastructure projects including thermal and renewable power projects. The technique enables project risks to be allocated to the parties best able to manage them and facilitates the raising of long term debt without recourse to the project developer.
The correct allocation of risk through an appropriate commercial structure is the foundation of a sound financing plan and this course will develop these themes by walking through the commercial contracts and finance documentation and provide an understanding of how to determine the optimal amount of debt using cash flow and ratio analysis. Current circumstances in the African power project sector will be discussed.
Investment committees need to be sure that all risk aspects have been studied and the course will detail the key elements of the due diligence exercise. The course will also provide a guide on how to approach the debt market.
Benefits of Attending
The course is intended to provide a firm understanding of the principles which create a bankable power project finance structure in terms of risk allocation and the commercial and financial structure. On completion of this course you will understand:
How a power project is structured and financed
How to identify power project risks and mitigation strategies
The role of the financial model and cash flow and ratio analysis
Debt sizing techniques
Project finance term sheets and loan documentation
Contract documentation
The due diligence process
How to efficiently identify viable project prospects
How to approach the debt market 
Who Should Attend
Power project developer, investor or financier
Finance & accounting
Project finance & structured finance
Power project management
Project analysis & development
Commercial & legal
Commercial services suppliers (law, insurance etc.)
Policy makers and policy advisors dealing with energy sector financial issues
Teaching Methodology
The agenda will combine presented materials with plenty of opportunity for Q&A, interactive discussions, and the use of quantitative models to illustrate key learning points. Current market examples and data are utilised wherever helpful.
Course Certificate
Upon the successful completion of this course, you will receive a Certificate of Completion bearing the signatures from both the Course Director and the Course Organiser. This Certificate will testify your endeavour and serve towards your professional advancement.
To register/enquire on this course, please contact:
Abigail Harris
Infocus International
Tel: +65 6325 0215 | Email: abigail[at]infocusinternational.com
Website: www.infocusinternational.com/powerprojectfinance
Please note that starting from 27th February 2020, we are no longer accepting new media partnership proposals. Thank you for your interest!