Offshore & Floating Wind Europe
November 11, 2019

-

November 12, 2019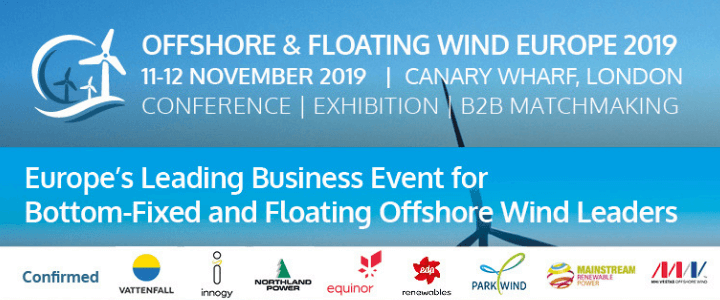 #OWEU19 is a meeting place for governments, developers and suppliers to grow the confidence in wind power. Perfect to grow your business by securing new customers, meeting officials and industry heads.
With the offshore wind industry forecast to grow from 18GW to 130GW by 2030, now is the time to secure your company's future in the global marketplace.
Six hundred offshore wind leaders will gather in London this November for an intimate business event that specialises in learning and networking. The 10th Annual Offshore & Floating Wind Europe Conference, co-located with the International Tidal Energy Summit will take place on the 11th-12th November, Canary Warf Hilton, London.
The two-day agenda provides leading insights for both developers and operators looking to exploit new market opportunities and improve operational efficiency and yield. We are not a trade show – we are an intimate networking event and guarantee 45% Developer/Operator attendance.
Please note that starting from 27th February 2020, we are no longer accepting new media partnership proposals. Thank you for your interest!