2 min read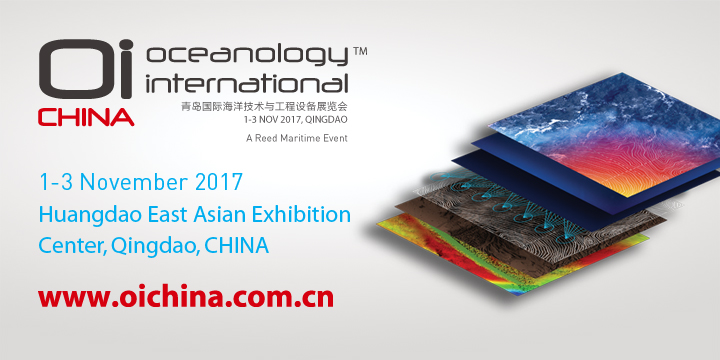 Oceanology International Opens Its Door To China
Oceanology International China is the only forum in Asia where industry, academia and government share knowledge and connect with the international marine technology and ocean science communities. Developed in conjunction with government and industry associations, Oceanology International China provides domestic and international suppliers the opportunity to capitalise on China's rapidly developing offshore energy and marine industries.
Oceanology International China 2017 will move to Qingdao! In its fifth year, Oceanology International China 2017 will continue through its structured networking programmes to link International suppliers with Chinese buyers, enabling them to build relationships and develop business.
Our Identity – Oceanology International
Staged every second year in London, Oceanology International is the largest exhibition for marine science and technology. It offers unparalleled opportunities to make vital trade contacts, seal deals and increase company profits. It is the event to see all the major players in one place, meet current and new suppliers and keep abreast on what's new in the marine science and ocean technology sector.
Oceanology International is a 3-day, free-to-attend event packed with inspiring ideas, business resources and networking opportunities for suppliers, contractors and end-users in the offshore and subsea industries.
Oceanology International 2016 was a great success. The exhibition, conference and multiple other events saw 520+ exhibiting companies network with almost 8000 attendees over three days.
The world-class conferences and 3 new panel discussions were all well attended and have connected delegates with the latest developments and technology transfer opportunities in developing offshore, marine and subsea sectors.
The Royal Victoria Dock has seen a record-breaking amount of vessel movements (148 during the three days) with 1,198 people aboard the 13 visiting vessels.
The Oceanology International will be held on 13-15 March 2018 at ExCeL London.
*Unaudited figures
OI China 2016
Oceanology International China 2016 (OI China 2016) has been held in Shanghai on November 9 – 11.
5995 domestic and overseas professional attendees from 25 different countries and regions were attracted to OI China 2016. And exhibitors from 20 different countries and regions showed up. As Asia's Premier Event for Marine Science and Ocean Technology, OI China 2016 is useful to academic research, information exchange and international cooperation in the fields of the development and utilization of marine resources, marine ecological environment protection, offshore oil and gas exploration, ocean engineering and marine monitoring in China, Asia and the world.
Oceanology International China 2017 will move to Qingdao!
About Reed Exhibition
The Maritime Portfolio at Reed Exhibitions consists of four global events in the Asia region including Singapore, Indonesia, South Korea and China. Reed Exhibitions' strength in the Maritime industry is built on our close partnerships with industry, professional bodies, trade associations and government agencies.
Whether you are interested in expanding your business around the globe, exploring new business opportunities or discovering the latest trends, Reed Exhibitions' maritime events will help you meet your objectives.
REED MARITIME EVENTS IN FIGURE:
• 70,051 visitors from Asia and beyond
• 2,924 exhibiting companies
• 75,000sqm of exhibiting space
• 1,000+ VIPs, C-level personnel and procurers