National Conference on Next Generation Demand Response
June 12, 2019

-

June 13, 2019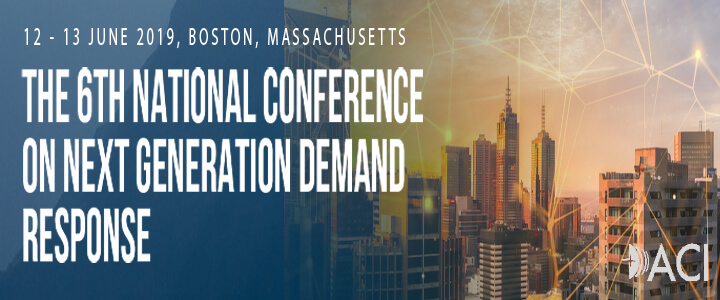 ACI's 6th National Conference on Next Generation Demand Response – Residential Demand Response, Storage + Solar, DER implementation and Capacity Markets.
Following five successful editions of ACI's National Conference on Next Generation Demand Response, this year's event will be taking place in Boston, Massachusetts on 12-13th June 2019.
Download the latest agenda here.
The conference will once again bring together senior executives and experts from utility companies, technology providers, energy professionals and leading service providers. We will discuss the latest challenges and developments making an impact on the industry. Some of the essential topics this year include battery storage with solar, microgrids, smart devices and customer satisfaction.
This new edition will most importantly focus on Residential Demand Response, Storage + Solar, DER implementation and Capacity Markets. The conference will therefore provide case studies, presentations & interactive panel discussions with all the attendees. The participants will also have the chance to discuss innovations in the industry during the various Q&As and networking breaks.
Early Confirmed Speakers Include:
Jed Trott, Vice President Demand Response, Customized Energy Solutions
John Bonnin, Vice President Energy Supply & Market Operations, CPS Energy
Peter Langbein, Manager Demand Side Response & Operations, PJM Interconnection
Douglas Staker, Vice President Utility Business Development, Enel X
Craig Boice, President, Boice Dunham Group
Jayesh Shah, Head of Marketing, Direct Energy
Jane Peters, President & Owner, Research into Action
Justin Orkney, Sr. Program Manager Renewable Energy Resources, Tucson Electric Power
April Bolduc, President & Founder, S Curve Strategies
Kathy Wells, Energy Projects Coordinator, Lancaster Choice Energy
Rolf Bienert, Managing & Technical Director, OpenADR Alliance
Brett Feldman, Research Director, Navigant Research
Key topics include:
Installed Capacity Markets & Ancillary Services: Their Link with DR
Efficiently Working with Complex Environments such as Real-time Wholesale Markets
How to Use Energy Storage to Model the Future: Battery Storage & Flexible Loads
DER Implementation in the Demand Response Market
Customer Retention through DR Programs & Guiding the Way to Time of Use Rates
Working with Residential DR to Increase Member Satisfaction
Microgrids & their Impressive Potential: Establishing the Hybrid-type Resources
Combining Community-shared Solar & DR and the Steps to Integrate It
For More Info & Registration contact:
Marcin Janecki
mjanecki@acieu.net / +48 61 646 7047
Please note that starting from 27th February 2020, we are no longer accepting new media partnership proposals. Thank you for your interest!