Mena Desalination Projects
September 7, 2020

-

September 8, 2020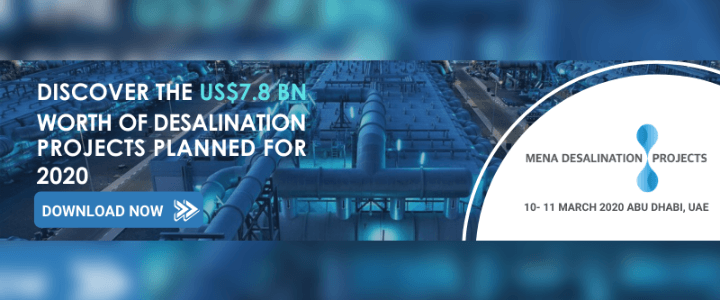 The second edition of the MENA Desalination Projects, the largest government-endorsed regional desalination conference in the Middle East & North Africa, will bring together 500+ regional and international stakeholders from the government, consulting, contracting and supply chain to discuss about the upcoming desalination mega projects in the region and highlight national sustainability visions driving the water agenda.
The second edition of the conference will address critical issues such as financial modelling, R&D optimisation, regulatory framework, membrane replacement & recycling, environmental footprint, water security & preservation. Featuring a 2 days trade show, 3 governmental panel discussions as well as 6 industry debates involving the top consultants in the region, this exciting event will offer an unparalleled learning curve on the latest technology in the desalination domain delivered by the world's trailblazers.
For more information please visit bit.ly/36KF6fs or email us at partnerships@gmevents.ae or call 971 45687800.
Please note that starting from 27th February 2020, we are no longer accepting new media partnership proposals. Thank you for your interest!