Kuwait Sustainable Development Symposium 2019
November 24, 2019

-

November 25, 2019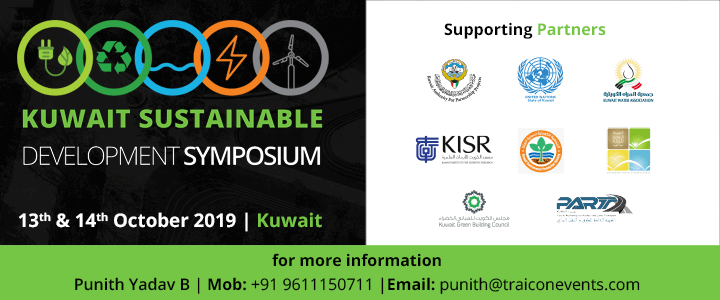 The State of Kuwait officially adopted the Sustainable Development Goals in September of 2015, with the government of Kuwait who took a decision to achieve the countries Sustainable Development Goals through various Sustainable development strategies and projects as per the Kuwait Vision 2035. The Government of Kuwait have significantly invested into national awareness raising on a transformative scope of the Agenda 2030 and its ultimate purpose of "leaving no one behind". While setting up strategic paths to overcome various obstacles, including strengthening the role of private sector, reducing dominance of oil sector on the country's economy, balancing public sector spending, creating conditions for reinvigorated direct foreign investments and improving infrastructure, the State of Kuwait have implemented many strategic development projects for achieving their SDGs and their targets.
Hence, in an effort to support the countries vision for sustainable development we at TraiCon will be hosting Kuwait Sustainable Development Symposium which is scheduled to take place from the 24th – 25th of November 2019 at the Millennium Hotel in Kuwait. This summit will be attended by 300 plus project stakeholders who are currently working on various Sustainable Development Projects, Sustainable Construction, Sustainable Cities, Water & Waste Water Treatment Projects, Renewable Energy Projects, Drainage & Flood Control, Ground Water Management, Waste Management & Recycling Projects across Kuwait.
This summit is a very exclusive two day platform for government leaders and industry experts to address inhabitable and sustainable challenges, share their views on integrated sustainable technology, solutions and forge new partnerships. At this summit you will explore how to create successful collaborations between the public and private sectors; the ways to fully leverage the sustainable development opportunities that will help boost Infrastructure, transport, increase investment opportunities and to develop smart sustainable cities. This platform will include a series of local and international keynote presentations, panel discussions, local and international case studies, interviews, demos and latest innovations; you will discover the latest trends, disruptors and innovators that are responsible for revolutionising the industry as we know it.
Please note that starting from 27th February 2020, we are no longer accepting new media partnership proposals. Thank you for your interest!