International Renewable Energy Forum 2018
September 6, 2018

-

September 7, 2018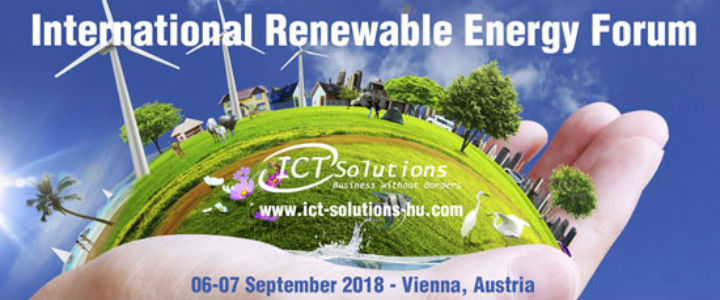 ICT Solutions presents its International Renewable Energy Forum 2018 which will be hosted on the 6th and 7th of September in Vienna, Austria. Bringing together 100 + Renewable Energy Experts / Professionals /Leaders from across the globe.
These two days our delegates will have the opportunity to see, listen and join in highly interactive Panel Discussions, Q+A Sessions to understand the latest Trends in Renewable Energy.
Key Take-Aways include the below:
•       Processing Waste into Clean Energy while Achieving 95% Municipal Waste Recycling
•       Insights on Corporate Renewable Power Purchase Agreement (Corporate PPA
•       Outlook at European Climate and Energy Framework 2030
•       Project Financing of Renewable Energy with and without long term price security
•       Participatory governance of energy transition: example of the Climate and Energy Model Regions in Austria
•       Opportunities in clean energy across LatAm, describing the various merits and weaknesses of individual markets (Mexico vs Brazil vs Argentina vs Chile)
•       Renewable Energy Investments in Europe in Biomass
•       Investment opportunities to support modern energy systems – storage and charging as game-changers
Carlos St James – Board member of Latin American & Caribbean Council on Renewable Energy
Allan Baker – Managing Director, Global Head of Power at Société Générale
Anna Chmielewska – Principal Banker at European Bank
Sophie Dingenen – Partner at Bird & Bird, Global Steering Committee Member Energy & Utilities, Co-Head of the International Renewables Group
Rosario Piazzese – Vice President of International Federation of Green & Global ICT
Ranjan Moulik – Managing Director, Global Head of Power at Société Générale
Dr. Nadejda Komendantova – Group Risk, Policy and Vulnerability Program – International Institute for Applied Systems Analysis – IIASA
Greg Stace –  CEO Earthed BV
Mario Riello – Managing Director Renewable Energy at SunPower
Gregory Wilcox – OrbisTech, LLC
Dr. Markus Bolhàr-Nordenkampf – Director CEN Energy Sales and Service Operations
Hans-Christian Schulze – Country Manager North America at Eolus North America, Inc
Please note that starting from 27th February 2020, we are no longer accepting new media partnership proposals. Thank you for your interest!