Global Summit on Plant Science & Plant Physiology
March 12, 2018

-

March 14, 2018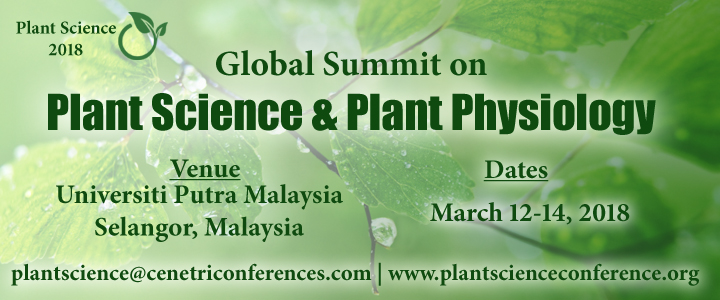 Cenetri Publishing Group invites all the participants from all over the world to attend "Global Summit on Plant Science & Plant Physiology" during March 12-14, 2018 in Kuala Lumpur, Malaysia which includes prompt keynote presentations, Oral talks, Poster presentations.
Global Summit on Plant Science & Plant Physiology is a unique international platform for the – Industry, Academia, Researchers, Innovators, Regulators – coming together to present and discuss current topics in Plant Science and Natural Products, Plant Biotechnology and Plant Tissue Culture, Plant Pathology and Plant-Micro-Biology, Plant Nanotechnology, Plant Morphology and Plant Metabolism, Plant & Forest Ecology and its Diversity, Plant Genetics and epigenetics, Plant Breeding and Molecular Breeding, Plant Physiology and Biochemistry, Plant Genome Sciences, Medicinal and Aromatic Plant Sciences, Soil Science and Soil-Plant Nutrition, Agricultural Science, Photosynthesis and will be available to discuss with you the latest issues and trends Next-Generation Sequencing – Basics & Applications: Tools and Technologies. Plants and plant products are essential for us. Food, energy, medicine and so many things we can get from plants.
This conference seek to bring all such scientist, Noble Laureate, researcher, research scholar, students and people together who are involved in plant biology, plant science, forest science, soil science agricultural science field and provide them to discuss about their innovation, exchange ideas and interaction with each other.
Please note that starting from 27th February 2020, we are no longer accepting new media partnership proposals. Thank you for your interest!