The 7th GALM Manufacturing Innovation Summit – Lightweight Materials Joining, Forming & Manufacturing Innovation 2020 Summit
March 25, 2020

-

March 26, 2020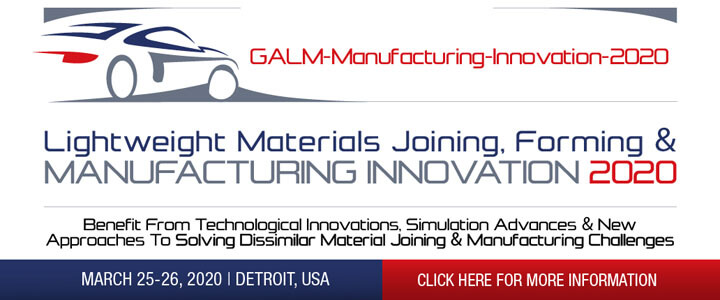 The GALM Manufacturing Innovation Summit, is North America's leading event on automotive manufacturing innovation and processes, bringing together senior engineers and technology specialists from major OEMs at the forefront of lightweight multi-material structures, joining and forming, as well as adoption of digitalisation and industry 4.0.
An ALL NEW agenda is designed specifically to address the manufacturability challenges involved with the latest generation of lightweight ICEVs, BEVs and PHEVs, providing solutions to the way forward with advanced manufacturing and engineering innovation to cut costs and reduce process complexity.
2020 OEM-Led Speaker Panel
Youssef Ziada, Technical Specialist, Digital Manufacturing, CAE
Ford Motor Company
Andrzej Wylezinski PE Structural Engineering Manager, Wabash National Corp.
Venkat Aitharaju, Senior Staff Researcher, Polymer Composites, R&D Technical Center, Principal Investigator, Dept. of Energy Project, General Motors
Elie Tohme, Director, Body Engineering, Research & Development, Strategic Planning, Karma Automotive
Lei Shi, Senior Chief Engineer and Director of Vehicle Attributes, Qoros Auto
Gregor Eckhard, CEO, MultiMaterial-Welding
Matthias Mitter, Category Manager, Bossard
Ing. Fouad el Khaldi, Strategy and Innovation General Manager, ESI Group
Brandt Ruszkiewicz, Lead Development Engineer, Semblex Corp.
Boris Baeumler, Senior Applications Engineer, DEPRAG
Lauren Wilk, Vice President, Policy & International Trade, The Aluminum Association
John Catterall, Executive Director, Auto / Steel Partnership (A/SP)
Hesham Ezzat, Senior Technical Consultant, Automotive Program (formerly Engineering Group Manager, General Motors), American Iron and Steel Institute (AISI)
Edwin Pope, Global Lightweighting Principal Analyst (formerly Vehicle Performance Engineer), IHS Markit
Highlights of the 2020 Agenda
High quality, energy efficient approaches in forming, joining and welding
Application of innovation initiatives from the aerospace and defence industries
Solving real world challenges in joining and welding dissimilar materials including composites, hybrid, laminated materials, and polycarbonates
Structural adhesive bonding for optimised lightweighting
Enhancing manufacturability of high strength metals, stamping and hot forming
Scaling up additive manufacturing applications for vehicle mass production
Advances in multi scale simulation for effective modelling of joining processes and lower manufacturing cost
Reducing costs in ICEV, BEV and PHEV manufacturing with Industry 4.0, AI and digital twin with flexible lines and cells for variable production volumes and vehicle type
Vehicle development and manufacture for zero emission life cycle, environmental sustainability and increased adoption of recyclable materials and alternatives to plastics
For a full agenda and details of our key speakers visit www.global-lightweight-vehicle-manufacturing.com
Please note that starting from 27th February 2020, we are no longer accepting new media partnership proposals. Thank you for your interest!