2 min read
The worlds energy market is experiencing its largest and most important shift in the modern era and is changing the way we live and travel on the back of shifting public values and government policies in an attempt to tackle climate change.
In this transition to a low carbon future, who will be the big players that will become the next global energy behemoth? From resource companies that are producing the raw materials, to the companies that are building the next generation of personal and public transport, wind turbines and solar panels, energy storage systems and everything in between. The acceleration of technology has allowed new technology to be refined and commercialised.
There are so many opportunities to invest, so where should you be looking?
The Future Energy & Tech Investment Forum will take place on the 27th of March in Shanghai. The one-day forum will focus on the future of energy worldwide, and the investment opportunities that are currently available on the market. Attendees include leaders from all sides of the energy spectrum, from oil and gas to power to pure-play renewable, established companies and startups, as well as the investors that are helping to shape the industry.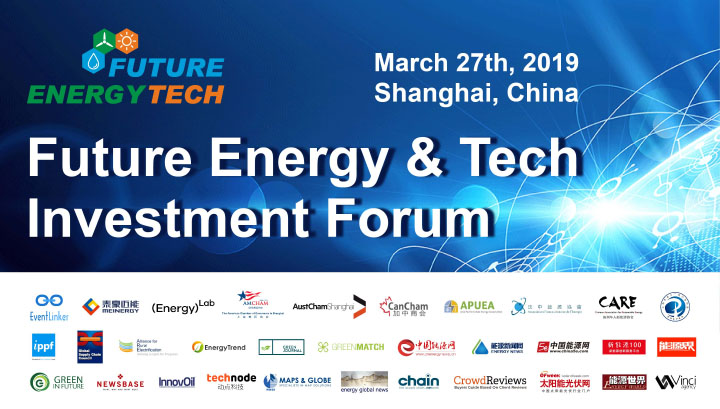 Event Name: Future Energy & Tech Investment Forum
Event Date: March 27th, 2019
Event Venue: PwC Innovation Centre, Shanghai, China
Organiser: EventLinker
Strategic Partner: Tellhow Meinergy, EnergyLab
Chamber of Commerce & Association: AmCham, AustCham, CanCham, Association Franco-Chinoise de l'Energie, Chinese Association for Renewable Energy, Shanghai Electric Power Engineering Association, Asia Pacific Urban Energy Association, ippf, Global Supply Chain Council, Alliance for Rural Electrification
Media Partner: Energy News, Nengyuanjie, cnenergynews, New Energy 100, china 5e, Tech Node, Energy World, Energy Trend, OF Week, Green in Future, Green Journal, GreenMatch, Maps&Globe, Energy Global News, NewsBase, InnovOil, Crowd Reviews, Chain Media, Vinci
Highlight
A full day of insights, ideas and networking of future energy, tech and innovation
Learn about the latest trends and best practices in new energy industry
Broad media and internet platform exposure
15+ industrial leading speakers, 150+ participants from energy resources / tech / consulting / investment companies
Main forum, startup pitching, VIP dinner
Topics to be discussed
Natural Resources Situation and Trends
New Energy Planning and Investment
Global Cooperation on New Energy Issues
New Energy Policies and Laws
Energy Control and Storage
Electrical Vehicle Monitoring and Control
Advanced Energy Technologies
Green Supply Chain Management
Blockchain Technology Empowers New Energy
Intelligent Energy Control Systems
Energy Network Challenge
Microgrids and more…
Who Should Attend
Titles/Roles
VPs, Directors, Managers and Heads of:
Marketing & Branding
Strategic & Global Sourcing
BD & Global Expansion
Logistics/Transportation
Sectors & Industries
Mining, Oil & Gas
Battery Tech, Solar, Wind, Hydroelectric, Geothermal, & Nuclear
Freight, Transportation & Logistics Providers
Chemical
In addition to
Consultancy Firms
Technology & Startup Companies
Institutional Investors
Government & Environment Association
Professors/ Lecturers/ Innovators
To register our event at www.eventbrite.hk/e/future-energy-tech-investment-forum-tickets-53530979601
To get more event info at www.fetiforum.com
To get further details kindly send us an email to marketing@eventlinker.cn or contact Ms Sherry Chen on +86 18258056393