Future Cities Summit Saudi Arabia 2020
March 17, 2020

-

March 18, 2020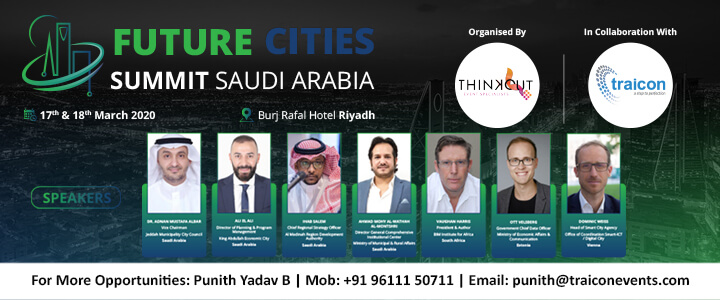 After successfully hosting many Editions of the Future Cities Summit and In an attempt to support the Saudi Arabia Vision to develop several smart cities, economic cities, industrial cities, healthcare cities, airport cities and educational cities, we at TraiCon will be hosting the 4th Edition Future Cities Summit 2020 which will take place on the 17th & 18th of March 2020 in Burj Rafal Hotel Riyadh, Kingdom of Saudi Arabia. This is a very exclusive two day platform for government leaders and industry experts to address inhabitable and sustainable city challenges, share their views on integrated smart technology and solutions and forge new partnerships. It is a global platform to explore how cities can better govern and build up resilience through policy, technology and social innovations.
At this summit we will explore how to create successful collaborations between public and private sectors, ways to fully leverage the modernisation opportunities that will help boost Infrastructure,
transport, increase investment opportunities and to develop smart sustainable cities. This platform will include a series of local and international keynote presentations, panel discussions, local and international case studies, interviews, demos, workshops, innovations and round table discussions; you will discover the latest trends, disruptors and innovators that are responsible for revolutionising the industry as we know it.
The leading solution providers, construction & investment firms will be participating at the Future Cities Summit Saudi Arabia 2020 as Sponsors and Exhibitors who would be showcasing their host of smart & sustainable solutions including few of the top solution providers such as China Comservice – Gold Sponsor, Real Estate Wadi Makkah company, MAT Korea – Exhibitors.
Registration for the Future Cities Summit Saudi Arabia 2020 is now open. Companies interested in sponsorship, speaking opportunities, exhibiting or advertising packages are requested to contact Eng Prasanna, Event Producer at TraiCon Events
Email: prasanna@traiconevents.com | Mobile: +91-7708 523918
Please note that starting from 27th February 2020, we are no longer accepting new media partnership proposals. Thank you for your interest!