Forum of Biomass and Waste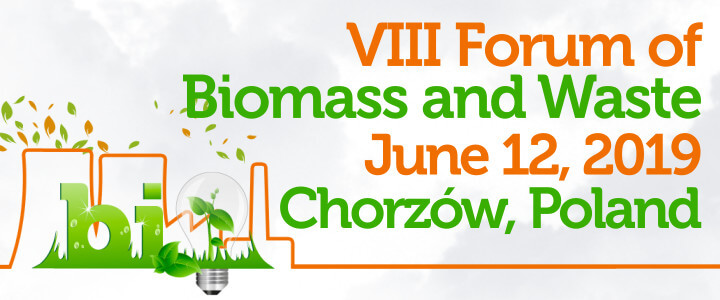 We invite you to participate in the VIII edition of the annual international conference about the use of biomass and waste for energy purposes – VIII Forum of Biomass and Waste, which will take place on June 12, 2019 in Chorzów.
The upcoming VIII edition of the Forum in 2019 will focus on the possibilities of biomass and waste markets, in particular in business, legal and technical areas. Experts will assess the potential of biomass and alternative fuels (RDF, SRF) on the market and will discuss development policy, among others, in the light of the power market, cooperatives and energy clusters and the winter package.
The Forum's agenda can be found here.
The Forum's Agenda Includes
Inaugural lecture: EU legislation and policy priorities affecting Waste-to-Energy, Marta Gurin, Head of Policy & Technology, Confederation of European Waste-to-Energy Plants
Case Study: Fortum multi-fuel CHP plant in Zabrze, Piotr Górnik, Head of Heating and Cooling, Fortum
ITPOE at PGE EC Branch Elektrociepłownia in Rzeszów – the first four thousand hours of operation, Adam Dybowski, ITPOE Manager, PGE Energia Ciepła S.A
Construction of a high-efficiency cogeneration plant fired in biomass at a heat plant in Dzierżoniów, Sławomir Kopcio, Deputy Director, ZEC Dzierżoniów
Business Partner's Speech – METROPOLIS: Possibilities for co-financing biomass investments. Wojciech Nawrocki, Member of the Board and co-founder, METROPOLIS Doradztwo Gospodarcze
Construction of a 7 MW biomass boiler in Nowy Sącz, Piotr Jeliński, Director of Investment and Development, MPEC in Nowy Sącz
Panel discussion: European alternative and biomass fuel market – pellet, RDF, wood, biofuels. Among speakers:
Grzegorz Walczukiewicz, President of the Board, Port of Clean Energy
Jerzy Ziaja, President of the Board, Polish Chamber of Commerce for Recycling
Professor dr Eng. Krzysztof Biernat, Head of Department for Fuels and Bioeconomy, PIMOT
Łukasz Skuza, Alternative Fuels Manager, Ożarów Group S.A
Magdalena Ruszniak, Director, Department of Raw Materials Supply, PGE Polska Grupa Energetyczna
Jolanta Domirska, Head of the Environmental Protection Team in the Area of Property Management, TAURON POLSKA ENERGIA
Adam Sarnaszek, CEO, BIOCONTROL, Poland
Representative of the Ministry of Energy
Forum of Biomass and Waste is a series of debates, meetings and accompanying events, the topics of which cover the most important issues for the development of the biomass sector and entities associated with the WTE (waste to energy) industry. The main goal of the Forum is to gather experts from many countries so that they can exchange their experiences regarding the latest achievements on the use of biomass and waste for energy purposes. The Forum functions as a platform for the exchange of current knowledge and an important tool in the transfer of know-how, technology and innovation. The event gathers a wide spectrum of market representatives every year, including: energy industry experts, biomass suppliers, municipal sector representatives, scientists, engineers and technologists, as well as industry organizations, financial institutions and representatives of government and administration.
We are convinced that during the forthcoming VIII Forum, we will create a place for substantive debate among specialists. At the same time, we will present the latest implementations and the most interesting technological solutions. We cordially invite you to cooperate and participate in the event!
Project Manager
Barbara Boczek, e-mail: barbara.boczek@cbepolska.pl
We also invite you to contact our office:
(22) 82 77 123, biuro@cbepolska.pl
Please note that starting from 27th February 2020, we are no longer accepting new media partnership proposals. Thank you for your interest!