European PVC Industry Summit
September 25, 2019

-

September 26, 2019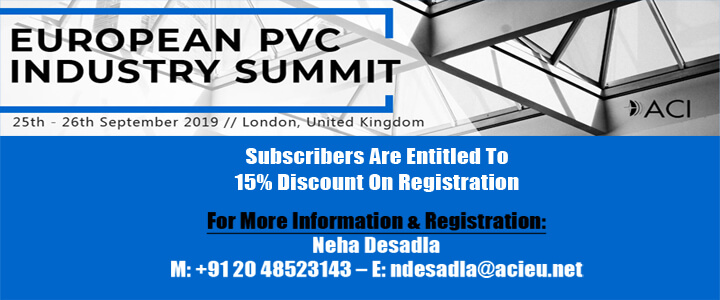 With the new European directive on plastic waste, increasing production costs, and the projected growth of the European PVC market, the PVC industry is facing a wide range of ongoing changes and developments.
First edition of the European PVC Summit will focus on progressing the European PVC Industry through acknowledging the current available technology and predicting the future outlooks of ongoing research in PVC products.
We will bring together members across the whole value chain including senior executives from chemical companies, PVC production companies and PVC product manufacturers as well as plastic waste and recycling companies, regulators and government policy makers, and market consultants.
Key Topics:
Managing Fluctuating PVC Production Costs
Discussing Current and Upcoming Regulations Framing the PVC Industry
Illustrating the Benefits of PVC over Alternative Materials
Advances in PVC Product Technology
Maximising Opportunities in the European Construction Market
Reducing PVC's Impact on the Environment
Waste Management of PVC and By-Products
Showcasing the Bright Future for PVC Products
Early Confirmed speaker:
Gareth Jones, Managing Director, Profine UK Ltd
Pascal Marly, Research & Development Manager for Automotive Interior, Nakan
Rob Labots, Sales and Business Development Manager, Van Werven
Lis Clarke, Director of Operations, BFRC
Gerald Feigenbutz, Managing Director, EPPA
Kate Burns, Research and Development Supervisor, Specialty Compounds
Wolf Erhke, Head of Technical Department, Camden Windows
Richard Mckinley, Head of Circular Economy, Axion
Virginie Duprez, Research and Development for Automotive Interior, Building and Construction & Consumer Goods, Nakan
Ted Henry, Professor of Environmental Toxicology, Herriott Watt University
Many more…
Readers/subscribers are entitled to a 15% registration discount. For further updated information, agenda request or to register your attendance contact Neha Desadla on +91 7030655510 or ndesadla@acieu.net quoting CPVe1ND
Please note that starting from 27th February 2020, we are no longer accepting new media partnership proposals. Thank you for your interest!