European Electric Vehicle Batteries Summit 2020
December 9, 2020

-

December 10, 2020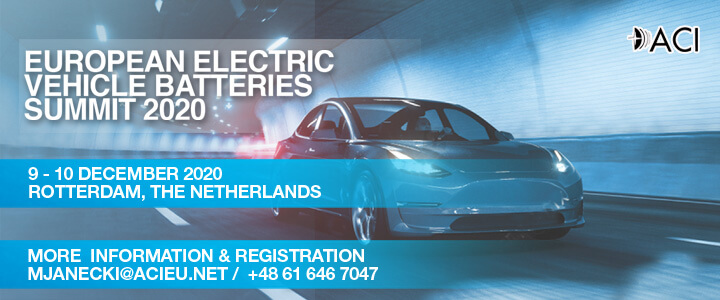 Advancing Battery Performance While Driving Down Production Costs: Unleashing The Power of Electric Mobility
Following the success of the 2nd and 3rd event editions, ACI's European Electric Vehicle Batteries Summit will be taking place in Rotterdam, the Netherlands on 9-10th December 2020.
The discussion this year will be focused around the key issues currently facing the electric vehicle batteries market, such as scaling up the industry over the coming years and the challenges this presents, the roadblocks along the supply chain, infrastructure and the technology needed to implement the solutions.
The two day event will bring together industry leaders from major car manufacturers, off high road vehicle manufacturers & battery producers sharing their knowledge and experience with the latest technology developments.
Also joining the summit will be policy makers from regulatory bodies, NGO's, market & energy consultants, analysts and providers of key solutions such as components, materials and charging infrastructure. Don't miss out on this excellent networking opportunity.
Early Confirmed Speakers include:
Alex Maschka, Non Executive Director, Leclanché  SA
Swarna Ramanathan, Associate Partner, McKinsey and Company
Kai-Uwe Wollenhaupt, President, Svolt Europe & Vice-President, Svolt Energy Technology Co. (SVOLT)
Christelle Verstraeten, Senior Director European Policy, ChargePoint
Giordano Mettus, Head of Human Resources, Contemporary Amperex Technology Ltd (CATL)
Meg Wang, Chief EV battery system Engineer/ Director for RESS and Charger System, Shanghai Huawei Technologies Co. Ltd
Rafal Biszcz, Leader of Defect Engineering, LG Chem
Rahima Yakoob, Project Lead Charging E-mobility Infrastructure, Daimler AG
Hakeem Dairo, Advanced Battery Engineer, Jaguar Land Rover
Andreas Pfrang, Scientist, Directorate of Energy, Transport & Climate, European Commission – Joint Research Centre
Mateusz Kuczmierczyk, Head of Production Engineering, BMZ Group
Eric Lind, Chief Commercial Officer, Lithium Werks B.V.
Robert Stanek, Partner & Board Member, Global Advisor E-mobility, P3 Group
Harrison Mitchell, Founder & Chief Strategy Officer, RCS Global Group
Matthijs Kok, Project Manager- Electrical Transport & Charging Infrastructure, Municipality of Utrecht
Pawel Swoboda, Battery Expert & Business Development Manager (Independent)
Alana Zulke, Senior Research Scientist, Energy Lancaster
Henry Lo, Director, Autonomous AI Ltd
For more information  about & registration with preferential rate contact:
Marcin Janecki
Phone: +48 61 646 7047
Email: mjanecki@acieu.net
Please note that starting from 27th February 2020, we are no longer accepting new media partnership proposals. Thank you for your interest!