Deepwater South America 2020
January 20, 2020

-

January 21, 2020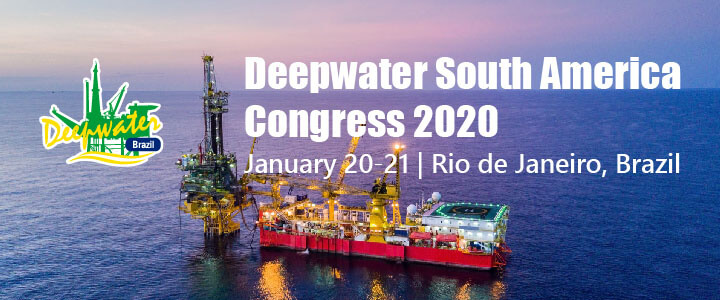 We are very delighted to announce the Deepwater South America 2020 will be held on Jan 20-21, Rio de Janeiro, Brazil. Grasping Mega-Projects Engagement Potentials in South American Deepwater Market. We look forward to your participation in Deepwater South America 2020.
South America is among the world's most promising Deep water regions. Good reservoir quality and improved upstream terms have combined with cost declines and firmer oil prices to spark enthusiasm for deep offshore oil exploration in South America. Opportunities are being offered in Brazil, Argentina, Guyana, Suriname, Uruguay, Falkland Islands and more.
Hot Topics
The only event to unveil engagement opportunities in South American Deepwater market
Country Focus: Brazil, Argentina, Guyana, Suriname, Uruguay, Falkland Islands
Pre-salt Ultra-Deepwater Investment Potential Special Focus
Outlining of upcoming tenders in Santos, Campos, Camamu, Jequitinhonha, Sergipe-Alagoas & Foz do Amazonas Basins, Guyana-Suriname Basin, Malvinas West & Argentina North Basins, Oriental del Plata Basin and North Falkland Basin
Spotlighting on Mega Deepwater & Ultra-Deepwater projects, including Mero 1&2, Carcara, Buzios 3 & 4 & 5, Liza Phase 2, Sea Lion, Maromba, Payara and more
Unlimited networking opportunities with local communities, including government, regulators, operators, investors and supply chain players
Part of Inviting Speakers and Participants from
ANP – Agência Nacional de Petróleo, Gás Natural e Biocombustíveis
PPSA – BRAZILIAN COMPANY OF OIL AND NATURAL GAS MANAGEMENT – PRÉ SAL PETRÓLEO S.A. (Pre-salt oil S.A.)
Ministry of Energy and Mines, Argentina
ANCAP, Uruguay
National Council for Energy Policy (Conselho Nacional de Política Energética) (CNPE)
Ministry of Mines and Energy (MME)
National Environmental Council (CONAMA)
IBP – Instituto Brasileiro de Petróleo, Gás e Biocombustíveis
Petrobras
Equinor
Premier Oil
ExxonMobil
Shell
Enauta
Total
Petrorio
BP Energy
Hess
Contact
Vito
Tel: +86 21 5830 0710-8094 | Mob: +86 18256079531 | Email: vitow@szwgroup.com
Please note that starting from 27th February 2020, we are no longer accepting new media partnership proposals. Thank you for your interest!