Conference on Renewable Energy and Climate Change
September 9, 2019

-

September 10, 2019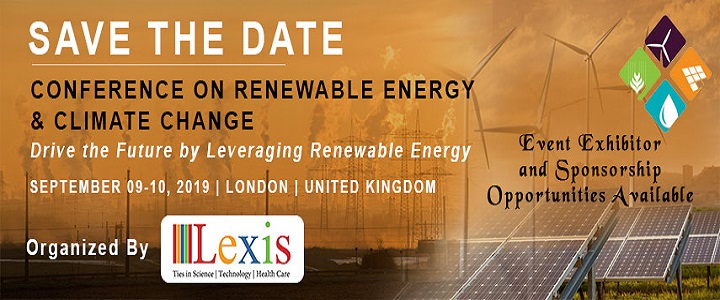 Renewable Energy – Neither "depleted" nor "replenished"!
Renewable energies – Sum up of clean and inexhaustible energy sources which include Biomass, Geothermal, Hydrogen, Wind, Solar, Hydropower etc., as it originates and adapts to natural cycles hence the name "Renewables".
This increasingly competitive energy source is an indispensable partner in combating climate change. Rather conventional energy, renewable technologies are the major sources in many growing parts of the world which also reduces the energy dependency.
The main objective of this congress is to discuss about the transition towards a low carbon economy resulting in the overall global growth. So in the economies of scale and innovation of a country, Renewable energy is not only the most sustainable solution environmentally but also economically.
Renewable Energy 2019 provides an acting stage at the "Capital of England" – London, the UK for energy integration. Join hands in this global gathering towards an effort in assisting human and environment to create a clean and green community.
Combat Climate Change! Conserve Energy Future!
Conference Highlights (Topics)
Bioenergy – Biomass and Biofuel
Geothermal Energy
Wind Energy
Solar Energy
Hydropower and Ocean Energy
Energy for Sustainable Development
Green Energy and Economy
Next-Generation Wind Technology
From Smart Grids to Smart Cities
Hydrogen Energy – Harvest to Energise
Waste to Energy
Energy Storage and Conservation
Accelerating Action for a Low-Carbon World
Offshore Wind Power
Zero Emission Transportation Revolution
Tech, Innovation and a Climate Safe Future
The role of Renewables in Combating Climate Change
Global Renewable Energy Investment and Trends
Nano Technology for Renewable Energy
Environmental Impact Assessment
Climate Change Agreement – Paris Agreement
Main Website: https://www.lexisconferences.com/renewableenergy
For Abstract Submission please visit: https://www.lexisconferences.com/renewableenergy/abstract
For downloading Conference Brochure visit: https://www.lexisconferences.com/renewableenergy/conference-flyer
For Registration visit: https://www.lexisconferences.com/renewableenergy/registration
REGISTRATION PRICES

| Participant Category | Early Booking (Mar 15, 2019) |
| --- | --- |
| Speaker | $400 |
| Delegate | $300 |
| Young Researcher (Speaker) | $250 |
| Student Delegate | $200 |
| Poster Presentation | $200 |
| Exhibitor Registration | $1,500 |
Contact Person
Sarah Scott
Renewable Energy 2019
Email: renewenergy@lexisevent.com
Phone No: +32 (800) 709-48
**for any query regarding the conference kindly contact me
Please note that starting from 27th February 2020, we are no longer accepting new media partnership proposals. Thank you for your interest!