Conference on Battery Forum & Energy Storage Technologies
June 21, 2019

-

June 22, 2019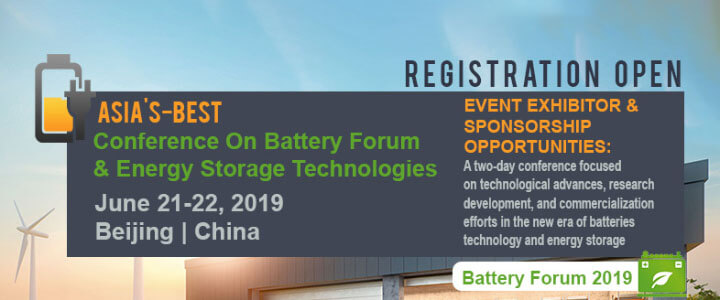 Battery Technology – "The Striking Change for the Energy Future"
Attend. Analyze. Accentuate!
The future of the way we make, transmit, and use power rests heavily on the shoulders of energy storage technology. Hence, Battery Forum 2019 – becomes a must-attend event which Watts up the present and future of Battery & Energy storage technologies with the Theme: Futuristic Technologies in next-gen Batteries & Energy Storage Evolution.
It gathers the world's best executives, business professionals, researchers, engineers, and leading suppliers around the world. A robust, end-to-end showcase, this leading international event covers today's emerging advanced battery technology for the automotive, portable electronics, medical technology, military and telecommunications, and utility and renewable energy support sectors.
A golden opportunity to analyze the full spectrum of cutting-edge solutions that can create a smarter and cost-effective environment at a single platform. Attend this comprehensive research event at China's massive Capital – discover the trends and interpret results.
Harvest your today to energize our tomorrow.
Conference Highlights (Topics):
Advanced Battery Technology
Next Generation Battery Materials
Energy Storage and Industrial Batteries
Advances in Lithium-Ion Batteries
Going Beyond Lithium
Fuel Cell Technologies and Applications
Advances in Electrolytes
xEV Battery Technologies
Hydrogen Fuel Cell Hydrogen Power Storage
Smart Cities & Smart Grid
Batteries for Hybrid Electric Vehicles
Advancements in Energy Storage Systems
Advances in Energy Storage Technologies
Global Battery Market, Trends and Analysis
Energy Storage for Utility Applications
Software Solutions for Energy Storage
Renewables & Storage Maximizing the Benefits
Microgrid, Off-grid solutions and Rural Electrification
Energy Storage Technologies Improving the Electric Grid
Battery Recycling Improving Battery Manufacturing Processes
Advancing in Clean Transportation System, Product and Infrastructure
For abstract submission please visit: www.lexisconferences.com/batteryforum/abstract
For downloading Conference Brochure visit: www.lexisconferences.com/batteryforum/conference-flyer
For Registration please visit: www.lexisconferences.com/batteryforum/registration
Registration Prices

| Participant Category | Early Booking (Jan 22, 2019) |
| --- | --- |
| Speaker Registration | $400 |
| Delegate Registration | $300 |
| Young Researcher (Speaker) | $250 |
| Student Delegate | $200 |
| Poster Presentation | $200 |
| Exhibitor Registration | $1,500 |
Contact Persons
Daniel Martin
Program Coordinator | Battery Forum 2019
Email: batteryforum@lexisevent.com
Phone No: +32 (800) 753-58
Please note that starting from 27th February 2020, we are no longer accepting new media partnership proposals. Thank you for your interest!