1 min read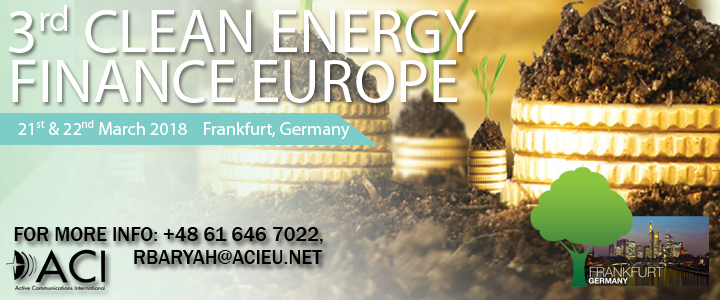 ACI's 3rd Clean Energy Finance Europe Conference will be taking place on 21st & 22ndMarch 2018 in Frankfurt, Germany.
Once again, the conference will look at the global and European clean energy finance markets, as well the main drivers amongst end-products.
The event will also take an in-depth look into trends & innovation and new technologies development.
The two day event will bring together key industry stakeholders from the renewable energy industry, energy producers, developers, biogas plants owners, solution and technology providers, investors and main associations.
Join us in Frankfurt to exchange your point of view with your peers and engage in excellent networking opportunities.


Event Website: http://www.wplgroup.com/aci/event/clean-energy-finance/
Event Brochure: http://bit.ly/2yhsA6D


Key Topics
Revision of legislation in progress

Energy Efficiency Project

New challenges and market responses

Unlocking renewable energy investment

Focusing on M&A activity

Financing Renewable Energy Storage

Scaling up green bond markets for sustainable development

Repowering existing projects using up to date technology

Financing sustainable small & large-scale projects

Reason for " Global Clean Energy Investment Falls"
Confirmed Speakers
Yvette Go

, Head of Social & Environmental Impact Investments, 

European Investment Fund
Jorge Rodrigues, 

Director

, ICP Europe
Sebastian Carneiro, 

Director

, SUSI Partners
Giorgio Dodero, 

President

, Industrial Project Group Srl
Morgane Nicol, 

Project Manager

, Institute for Climate Economics
Jim Totty

, Managing Partner, 

Sustainable Technology Investors LtD
Ruben Bach

, Partner, 

SVS Capital Partners 
Mortimer Menzel

, Partner,

Augusta & Co.
Victoria Cuming

, Head of Policy,

Bloomberg New Energy Finance
And Many More!
For More Information or Registration, please contact:
Rohan Baryah
+48 61 646 7022
rbaryah@acieu.net