Challenges in Global Climate Change
November 18, 2019

-

November 19, 2019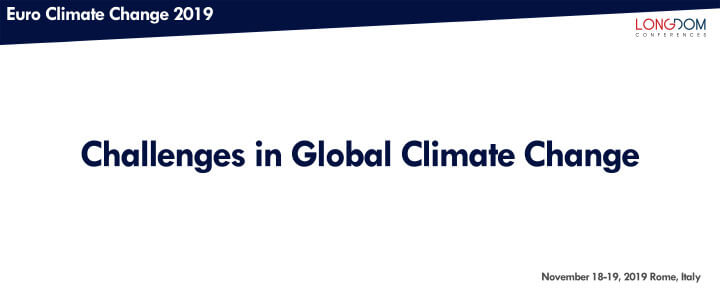 Longdom is a renowned organisation that organises highly notable conferences throughout the globe. Currently we are bringing forth Challenges in Global Climate Change (Euro Climate Change 2019) scheduled to be held during November 18-19, 2019 Rome, Italy. The conference invites all the participants across the globe to attend and share their insights and convey recent developments in the field of Climate change.
Conference Theme: "An Insider's View on Climate science for a Sustainable Future"
Climate Change or Global Warming is concerned with the environment issues and ozone depletion, greenhouse gases properties of Climate. Euro Climate Change is a multidisciplinary science that deals with the environmental, earth and planetary science which were considered as Climate Change. Euro Climate Change 2019 is comprised of the following sessions with 23 tracks and 159 sub sessions designed to offer comprehensive sessions that address current issues of Euro Climate Change 2019.
Sessions/Tracks
Climate and Climatology
Evidence of Climate Change
Global Warming Effects & Causes
Renewable Energy
Green Energy & Economy
Renewable energy to Mitigate Climate Change
Climate Change: Biodiversity Scenarios
Climate Change Challenges
Carbon Cycle
CO2 Capture and Sequestration
CO2 Responsible for Climate Change
Climate Hazards
Pollution its Effects on Climate
Climate Change Economics
Climate Change Health
Energy Policy
Climate Change Law Policy
Effective Adaptation
Sustainability & Climate Change
Risks of Climate Change
Solutions for Climate Change
Oceans & Climate Change
Space Monitoring of Climate Variables
Directors/Senior Directors/Executive Directors and Vice Presidents/ Senior Vice Presidents /patents/attorney/Executive Vice Presidents and Heads/Leaders/Partners of
Climate Change
Division of Climate Change Inc., American chemical Society
Bioenvironmental Society
Climatologists
Meteorologists
Marine biologist
Euro Climate Change 2019 invites delegates from Leading Universities, Formulation Scientists, Geologists, Researchers, Students, Business Delegates and Young researchers across the globe providing a better podium, interconnecting the most recent research, innovative advancements in the field and in addition restorative viewpoints. Distinguished Scientific Professionals in the field of Geology, Earth Science and Environmental Science
Universities Faculty (Professors, Associate Professors, Asst. Professors)
To know more visit: www.longdom.com/climatechange
Good Reasons Not to Miss Euro Climate Change 2019
You can listen to world-renowned speakers.
The program focuses both to scientific value and impact on the industrial world.
You can meet companies and stakeholders in Euro Climate Change 2019.
About Organiser
Longdom conferences coined as 'father of all conferences' has an history of leading international speaker talks and is instrumental in bringing together experts and beginners for friendly and effective research-oriented discussions. The goal of Longdom conferences is to bring together scientists at every level from different disciplines to understand and discuss during programmed topic sessions and informal gatherings. Longdom conferences will showcase innovative, cutting-edge research on the fundamental roles in addressing the challenges and translational research from academia to industry. All these opportunities will support professional growth of younger scientists that will promote future collaborations and enhance participation and contribution to their exciting research work.
Lonja S
Program Manager
Direct: +1-647-696-9880
Email: euroclimatechange@outlook.com
Please note that starting from 27th February 2020, we are no longer accepting new media partnership proposals. Thank you for your interest!