Biomass Trade Summit Europe 2019
January 16, 2019

-

January 17, 2019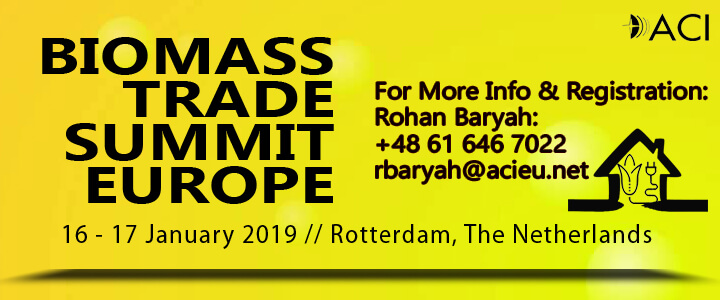 ACI is pleased to announce the Biomass Trade Europe Summit. The event will bring together senior executives and experts from the biomass trading industry, biomass producers, energy companies, policy makers, consultants, technology innovators and leading market analysts to discuss the latest challenges and developments within the industry. The two day event will give you an insight into the industry`s latest regulations—The Renewable Energy Directive (RED II) & Sustainable Biomass Program (SBP) certification schemes impacting on biomass sustainability & operations, biomass transportation & logistics in the environmental context, the future of biomass sourcing , as well as long term economy & investment strategy paths.
Event Brochure: http://bit.ly/BiomassTrade
Event Website: https://www.wplgroup.com/aci/event/biomass-trade/
Key Topics:
In Depth Outlook Into The Future Of Biomass Use In The European Policy Context
The Future Of Biomass As A Recognised Global Commodity
Evaluating The Process Of Sustainable Biomass Program (SBP)  & Sustainability Criteria For Biomass In Europe
Best Strategies For Sustainable Trading Practices: Local Biomass Sources vs Exploring New Geographical Opportunities
Analysing Biomass Trading & Logistics In The Environmental Context
Aiming For Greater Integration Between Government Schemes For Biomass Use In The Future
Expanding Future Opportunities For Biomass Industry
Aiming For Long Term Stability In Biomass Markets: New Economical & Investments Paths
Comprehensive Outlook Into The Key Developments Of Biogas Installations In Europe
Making The Most Of Biomass Residues Markets: Key Developments, Product Applications & Trading Activities
New Biomass Technologies For Different Biomass Streams
Making The Most Of Biomass Residues Markets: Key Developments, Product Applications & Trading Activities
Confirmed Speakers:
Alexander Afanasyev, Managing Director, PELTRADE
Johan Granath, Senior VP Bioenergy, EKMAN GROUP
Norbert Schmitz, Managing Director, ISCC
Bharadwaj Kummamuru Venkata, Executive Director, World Bioenergy Association
Detlef Evers, Managing Director, MVAK
Senior Representative, European Biogas Association
Michael Kottner, CEO, International Biogas And Bioenergy Center Of Competence (IBBK)
Nicole Van Klaveren, Business Manager Energy & Renewables, Port of Rotterdam
Raf Verdonck, Chairman, Belgian Biodiesel Board
Alex Mason, Senior Policy Officer, WWF European Policy Office
Jean –Marc Jossart, Secretary General, Bioenergy Europe
And Many More
For More Info & Registration,
Please contact:
Rohan Baryah
+48 61 646 7022
rbaryah@acieu.net
Please note that starting from 27th February 2020, we are no longer accepting new media partnership proposals. Thank you for your interest!