The BEVA-ALM Europe – Battery Electric Vehicle Architectures & Lightweight Materials Congress
May 5, 2020

-

May 6, 2020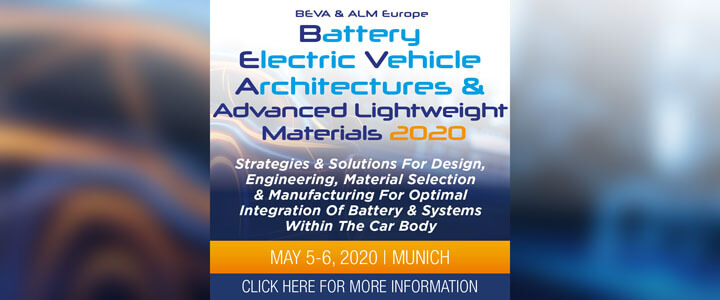 To realise the transition towards zero-emission high-efficiency vehicles, battery weight reduction and design of lightweight structures become the main challenge for the automotive industry. To realise the transition, OEMs need to identify the right strategies in selecting and utilising lightweight materials; taking safety, performance, production volume and manufacturability into consideration, for longer range, with lower cost.
Optimisation in design, engineering and manufacturing are key issues for all OEMs. In order to directly address these, and identify solutions, LBCG is delighted to announce the Battery Electric Vehicle Architectures & Lightweight Materials 2020 Congress, a combination of our successful BEVA series and GALM series on BEV lightweight structures and material utilisation.
2020 OEM-Led Speaker Panel
John Yan, Executive Expert of CAE Technology Vehicle Engineering & Integration, NIO, China
Espen Kvalvik, CEO and CTO, Fresco Motors, Norway
David Hudson, Head of Propulsion, Tata Motors European Technical Centre (TMETC)
Lewis Horne, CEO and CTO, Uniti, Sweden
Highlights of the 2020 Agenda
Platform strategies – evaluate dedicated BEV platforms vs. conversion platforms
Engineering solutions to protect the battery enclosure from side & under vehicle impacts to optimise stiffness, NVH, and safety
Battery packaging, thermal management, and systems integration for weight reduction and efficiency optimisation
Innovative battery design and engineering technologies for battery weight reduction
Flexible platform to accommodate a diversified mix of powertrains and integration in one production line
Optimised design of new components for battery systems, motors and powertrain
Case studies and cost-effective engineering solutions in advanced joining between dissimilar materials
Future technologies for structural composites, adhesives, additive manufacturing and enhanced crashworthiness
For a full agenda and details of our key speakers visit www.beva-alm-europe.com
Please note that starting from 27th February 2020, we are no longer accepting new media partnership proposals. Thank you for your interest!