Battery Electric Vehicle Architectures (BEVA) Detroit Congress
February 26, 2020

-

February 27, 2020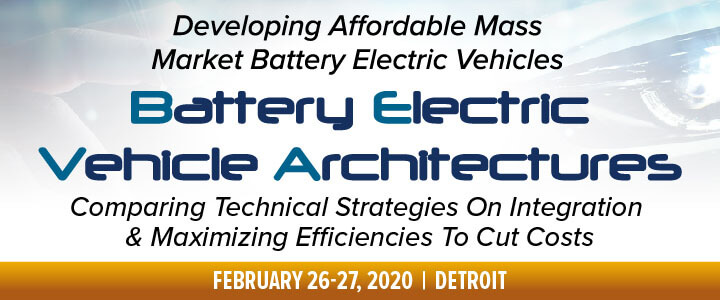 Building on the success of the San Jose BEVA conference in June, the Battery Electric Vehicle Architectures (BEVA) Detroit Congress is designed specifically to deliver realistic commercial options, technology strategies and engineering solutions in the way forward to mass market adoption of electric vehicles. OEM leaders will address the key challenges they are facing in being able to reduce the time to market for their new EV product ranges at a competitive price.
The agenda sessions, developed for both senior engineers and technical specialists, will explore the evolution of dedicated BEV platforms, architectures and lightweight integrated body structures.  New approaches to battery, thermal management and HV electrical systems integration from a whole vehicle perspective will provide unique insights into delivering attributes such as affordability, desirability, range and performance for the end customer.
2020 OEM Speakers
Karl Plattenberger, Chief Engineer – Powertrain, Thermal Systems and Aero, Mahindra Automotive North America
Daniel Kok, Global xEV Architect, Senior Technical Leader, Electrified Powertrain Systems Engineering, Ford Motor Co.
Simon Xu, Engineering Group Manager, Vehicle Optimisation, Advanced Vehicle, Development and CAE, General Motors
Ken Gould, E-Mobility Technical Systems Engineer, Porsche Cars North America
Daniele Giachi, Director of Vehicle Engineering, C_Two Chief-Engineer, Rimac Automobili
Shiv Sikand, Executive Vice President and Co-Founder, Drako Motors
Lewis Horne, CEO and CTO, Uniti
Dan Panoz, Founder and President, Panoz
Highlights of the 2020 Agenda
Design of the battery enclosure and integration into the vehicle, including 'skateboard' and other cost-effective platforms.
What innovations in battery technologies are available now to overcome today's range and performance shortcomings
How to optimise high voltage electrical architecture and systems effectively to reduce costs and maximise efficiency.
Latest engineering approaches to lightweight structural design, powertrain transmission and e-motor integration to enhance NVH.
Adoption of advanced thermal management technologies to keep the battery with optimal operating temperature while reducing energy demand.
Possibilities for greater standardisation across the EV industry, addressing critical safety compliance and crash issues.
For a full agenda and details of our key speakers visit www.beva-detroit.com
Please note that starting from 27th February 2020, we are no longer accepting new media partnership proposals. Thank you for your interest!