1 min read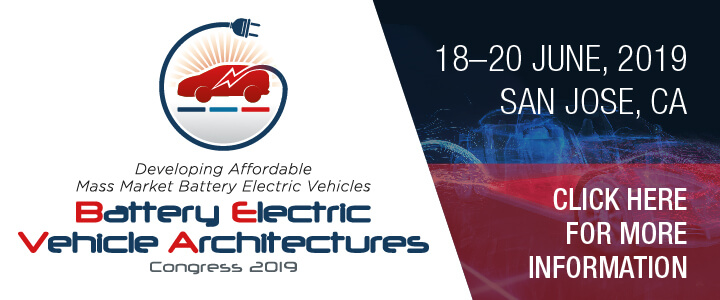 Following the success of Battery Electric Vehicle Congress in September 2018, American Business Conferences are pleased to introduce the Battery Electric Vehicle Architectures (BEVA) Congress USA 2019, which will take place in the heart of the electric and autonomous vehicle industry, San Jose, from 18-20 June, 2019.
BEVA uniquely will explore development of EV architectures from a systems engineering point of view – both design of brand new platforms and adapting existing platforms
Developed for chief engineers and systems engineers, as well as managers responsible for electrified powertrain, battery packaging, mass optimisation, thermal management and EV safety, the conference sessions present a whole vehicle design perspective, focused on delivering affordability, desirability, range and performance for the customer.
The Congress will identify optimal vehicle and battery architectures for the next generation EV, while cutting development costs and maximising safety and performance through integration and optimisation of body structures, battery pack, thermal management and powertrain.
Growing commitment from OEMs, lower cost batteries, support from local and stable government and low operating costs are putting EVs on track to pass ICEVs beyond 2035, according to a range of forecasts.  Tighter environmental and safety regulations coupled with technological breakthroughs guarantee that EV markets are set for disruption.
The Congress agenda is based on extensive research with over 50 OEMs and will feature leaders in EV delivering detailed presentations, case studies and panel discussions on the industry's hottest challenges.