Algae Tech Conference, Munich
September 19, 2018

-

September 20, 2018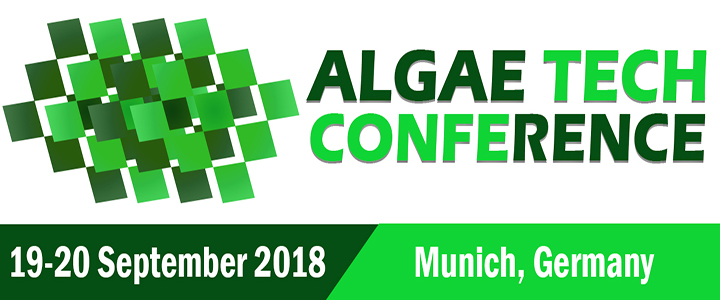 Algae are called the green gold of the future as they became a valuable and sustainable feedstock for numerous industies. They are used in producton of biofuels, novel food,animal feed, chemicals, materials, cosmetics, biofertilizers or CO2 utilization. The market is rapidly growing and it is still far from reaching it's full potential. Scientists are working on new technologies and cost optimization to scale up pilot projects to industrial production. Algae Tech Conference, taking place on 19-20 September 2018 in Munich, will bring together major stakeholders in order to highlight the latest technical and commercial issues. We will examine algae cultivation, harvesting and applications for various industries. We invite you to join your peers for 2 days of interactive pressentations and networking sessions.
Speakers include:
Thomas Brück, Werner Siemens Chair of Synthetic Biotechnology, Technical University of Munich
Rene Wijffels, Professor, Scientific Director, AlgaePARC, Wageningen University
John Benemann, CEO, MicroBio Engineering
Luis Costa, COO, A4F
Monique Schoondorp, Managing Partner, Omega Green
Luisa Gouveia, Head of Autothrophic Microalgae, LNEG
Robert Reinhardt, CEO, AlgEn
Javier Dávila, CEO, D&B Tecnologia
Mine Uran, Founder & CEO, Alver
Fritz W. Wintersteller, Director – Business Development, SCHOTT
Alvyn Severien, CEO & Co-founder, Algama
Gunnar Mühlstädt, CEO, Mint Engineering
Carole  Llewellyn, Associate Professor in Applied Aquatic Bioscience, Swansea University
Gergely Maroti, Research Leader, Microbial Genomics, Hungarian Academy of Sciences
Franck Hennequart, Director Research & Innovation, Algaia
Stefan Holler, Expert, Naturland
Elena Ficara, Associate Professor, Politecnico Milano
Jean-Louis Roux Dit Buisson, CTO, Neocarbons
Jags Pandhal, Senior Lecturer in Biological Engineering, University of Sheffield
Website: www.algaetech-conference.com
15% discunt code: ATCMP
Please note that starting from 27th February 2020, we are no longer accepting new media partnership proposals. Thank you for your interest!