AEE Europe Energy Conference & Expo
October 28, 2020

-

October 29, 2020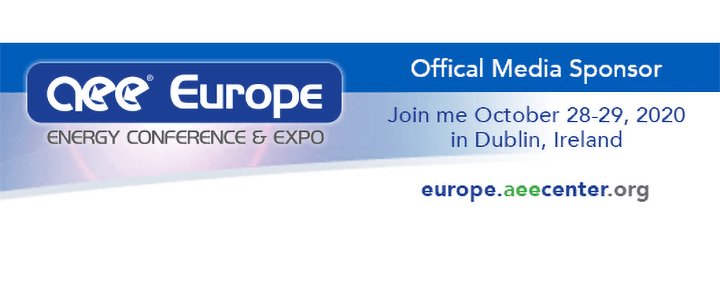 Bringing Together the European Business Community and Government Organisations to Create a Cleaner Energy Future.
The Association of Energy Engineers® (AEE®) is proud to announce the inaugural AEE Europe Energy Conference & Expo. AEE Europe, sponsored by the Sustainable Energy Authority of Ireland, will be AEE's first energy conference and exhibition to take place outside the United States.
Europe is home to some of the most significant energy users on the planet that demand energy-efficient solutions, new energy initiatives, and the development of clean energy technologies. The theme of the conference, Recognising Leadership & Innovation in European Energy, underlines Europe's energy sector and demonstrates the leading role European companies and organisations have in global energy efficiency strategies and practices.
This unique 2-day event will open with powerful speakers providing insight into global energy policies, strategies, leadership tactics, innovations, and technologies. It then breaks into a 4-stream conference, an exhibition, and presents the first of its kind energy simulation arena. Running in conjunction with the event is a variety of training workshops, and Large Industry Energy Network (LIEN) will also present their company's latest case studies. The event format is designed for attendees to network, share, and learn.
Bill Kent, AEE Executive Director, says: "All European countries are facing significant carbon emission reduction targets and policy objectives from the EU for 2020 and beyond. There has never been a more appropriate time for this event to take place. AEE will bring together commercial, industrial, and public sectors from across Europe to a unique event, attended by one of the largest gatherings of industry leaders and climate-focused professionals."
"Our highest priority is to align the very best Keynote speakers with the event and its audience. From these speakers, attendees gain first-hand insight into a company's energy strategies. They learn what it takes to be recognised as a leader in the energy space and how innovation and technology are driving the deployment of new solutions within the industry. The primary focus at Dublin in 2020 will be on how European companies meet greenhouse gas emissions targets and how they see the future of energy efficiency across Europe over the next decade."
Derek Mullins, President of the AEE Ireland Chapter, says: "The Association of Energy Engineers has presented energy events for over four decades within the U.S., and having attended these events for many years, I am particularly proud that Ireland will host the first European conference & exhibition."
"Since its inception in 1981, AEE's Certified Energy Manager (CEM®) credential has become widely accepted, recognised, and used as a measure of professional accomplishment within energy management. It has gained industry-wide use as the standard for qualifying energy professionals both in the United States and throughout Europe. Before this event, energy engineers would have to travel to the U.S. for the latest training and certification, at considerable cost. This event will provide an excellent opportunity for technical education, along with cost savings and a significant reduction in a company's (travel) carbon footprint."
"The Irish chapter is working closely with other European chapters, and AEE's event partner to make this a European event. We look forward to delivering exceptional networking and educational opportunities for our European members and create an experience where energy professionals can come together to learn about the latest energy-saving strategies, services, and technologies. All attendees will have the opportunity to interact within a peer-to-peer environment. They will leave with greater knowledge about energy efficiency concepts, and ideas on how to deliver quality projects that are safer, faster, and more profitable, thus leading to increased stakeholder satisfaction and value for money.
AEE European Delegate Profile
Energy Engineers
Building Operators
Building Developers
Facility Managers
Energy Managers
Sustainability Managers – Renewable Managers
Utility Managers
Financial Advisors
Office of Public Works
Planners & National Grid – Building Owners
SEAI – LIEN Network
Engineering Managers
EHS Managers
Civil Engineering Exec.
Programme Manager
M&E/Building Services
About the Association of Energy Engineers
The Association of Energy Engineers® (AEE®), founded in 1977, is a non-profit professional organisation of over 18,000 members in over 100 countries. The mission of AEE is to promote the scientific and educational interests of those engaged in the energy industry and to foster action for Sustainable Development. The organization offers a full array of informational outreach platforms including seminars (live and online), conferences, journals and certification programs. AEE's network of over 100 local chapters meets regularly to discuss regional issues within the commercial, industrial, institutional, governmental, energy services, and utility sectors.
Please note that starting from 27th February 2020, we are no longer accepting new media partnership proposals. Thank you for your interest!