Oman Sustainable Energy and Technology Summit (SETS)
October 11, 2018

-

October 12, 2018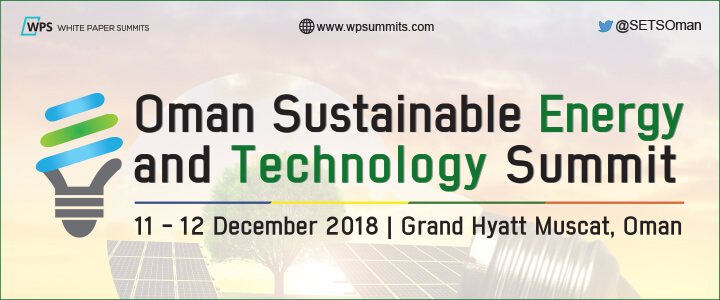 Advancements in Alternative Energy, Energy Storage and Technology Transfer
The developmental goals for sustainability and renewable energy have been set in most of the MENA countries. There are increasing possibilities of accelerated development of energy infrastructure, technological upgrade and human resource development respectively, to promote innovative ideas in the sector. Besides large-scale renewable energy projects, it is expected that the region will witness development of local industries for manufacture of equipment and systems for renewable energy projects. Now that renewable energy projects like PV Solar, CSP, wind energy and waste to energy projects are being set up, there are new challenges faced by the renewable energy industry.
After the remarkable success of our first edition of Sustainable Energy and Technology Summit (SETS) in Kuwait held on 3-4 April 2018, we are pleased to introduce the Second Edition "Sustainable Energy and Technology Summit", in Sultanate of Oman scheduled to be held on 11 – 12 December 2018, which aims to bring together various stakeholders like ministries, research institutions and industry specialists to focus on sharing the current market trends, technological advancements and future challenges.
Contact: salil@wpsummits.com
Tel. no: +968 24788476
Please note that starting from 27th February 2020, we are no longer accepting new media partnership proposals. Thank you for your interest!