6th World Nuclear Industry Congress 2019
September 25, 2019

-

September 26, 2019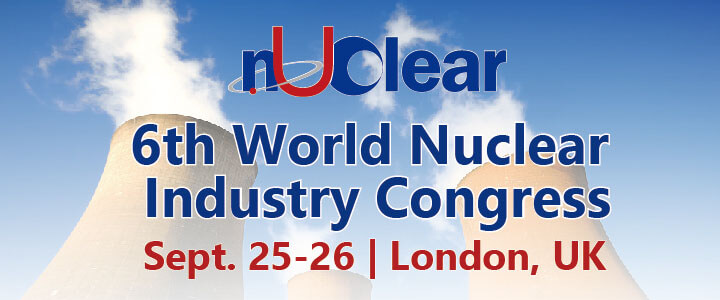 6th World Nuclear Industry Congress 2019 aims to bring together companies involved in all areas of the nuclear power plant life cycle to proficiently discuss cutting-edge issues and emerging trends which affect and even lead the nuclear industry. Governments, regulators, utilities/operators, reactor vendors, decommissioning contractors, waste management agencies, technology & service providers and other organisations will share valuable insights into the most important aspects of new build, life extension & decommissioning projects as well as radioactive waste handling. This conference is a "must-attend" for anyone who wants to stay current and on top of industry trends and developments. Meanwhile, for those who are keen to find new investment opportunities or strengthen their presence in this market, our two-day event will also provide a cosy platform to meet your future partners..
Top 8 Reasons Why You Can't Miss and What's New Than Last Year
What's New: Learn About Dynamics and Advances in the UK Specifically on Day One Main Forum
What's New: Highlight Hot Projects in UK: Hinkley Point C, Sizewell C, Bradwell B
What's New: Benefit from Nuclear New Build Forum on Day Two to Discuss the Latest News and Developments of Worldwide, with emphasis on the UK, France, Finland, UAE, Saudi Arabia, Turkey, China, Argentina, Brazil, South Africa, Kenya, the US, etc.
The ONLY Conference Focusing on Latest Projects and Contract Opportunities in the Whole Industry Chain of New Build, Decommissioning & Waste Management around the World
Catch Up with Project Updates, Strategy & Regulation, Financing & Risk Management, Nuclear Fuel Cycle, Advanced Nuclear Technology & Digital Trend, Supply Chain Optimisation and Disposal of Radioactive Waste both in the UK and Abroad
Highlight Supply Chain and Vendor Technology Demonstration Session for Sponsor Opportunity
Interactive in Exclusive Panel Discussions on "Nuclear New Build Challenges and International Collaboration"
Contact
Vivien Miao
Email: vivienm@szwgroup.com
Tel: +86 18521407816
Please note that starting from 27th February 2020, we are no longer accepting new media partnership proposals. Thank you for your interest!