4th Solar PV Operations USA 2018
November 7, 2018

-

November 8, 2018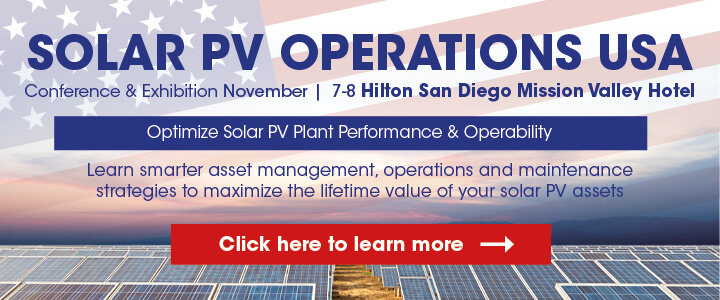 Optimise your Solar PV Plant Performance & Operability by attending the 4th Solar PV Operations USA 2018 Conference in San Diego, Mission Valley on Nov 7-8. Network with 500+ PV executives to learn smarter Asset Management, Operations and Maintenance strategies to maximise the lifetime value of solar PV assets.
#PVUSA18 unites 500+ solar PV plant owners, operators, OEMs, project developers, O&M service providers, technology developers, manufacturers, software developers and many more from the PV supply chain.
Tour 15+ exclusive expo booths; enjoy 20+ hours of intimate networking and all new topics such as Solar + Storage, C&I and Residential rooftop solar and PV smart grids.
Meet with all the US solar PV plant owners – understand who they are, what projects they are planning, and upcoming opportunities for partnerships and O&M service contracts.
Want to know more about America's #1 Conference and Exhibition for the offshore wind power industry? Download our Official Brochure Here.
Please get in touch today if you're interested in attending or being involved in the event!
Event Contact:
Adam Minkley
Project Director
New Energy Update
+44 (0) 207 375 7239 (Global)
+1800 814 3459 x7239 (US)
Email: adam@newenergyupdate.com
Please note that starting from 27th February 2020, we are no longer accepting new media partnership proposals. Thank you for your interest!