2nd Europe Solar + Energy Storage Congress 2020
June 23, 2020

-

June 24, 2020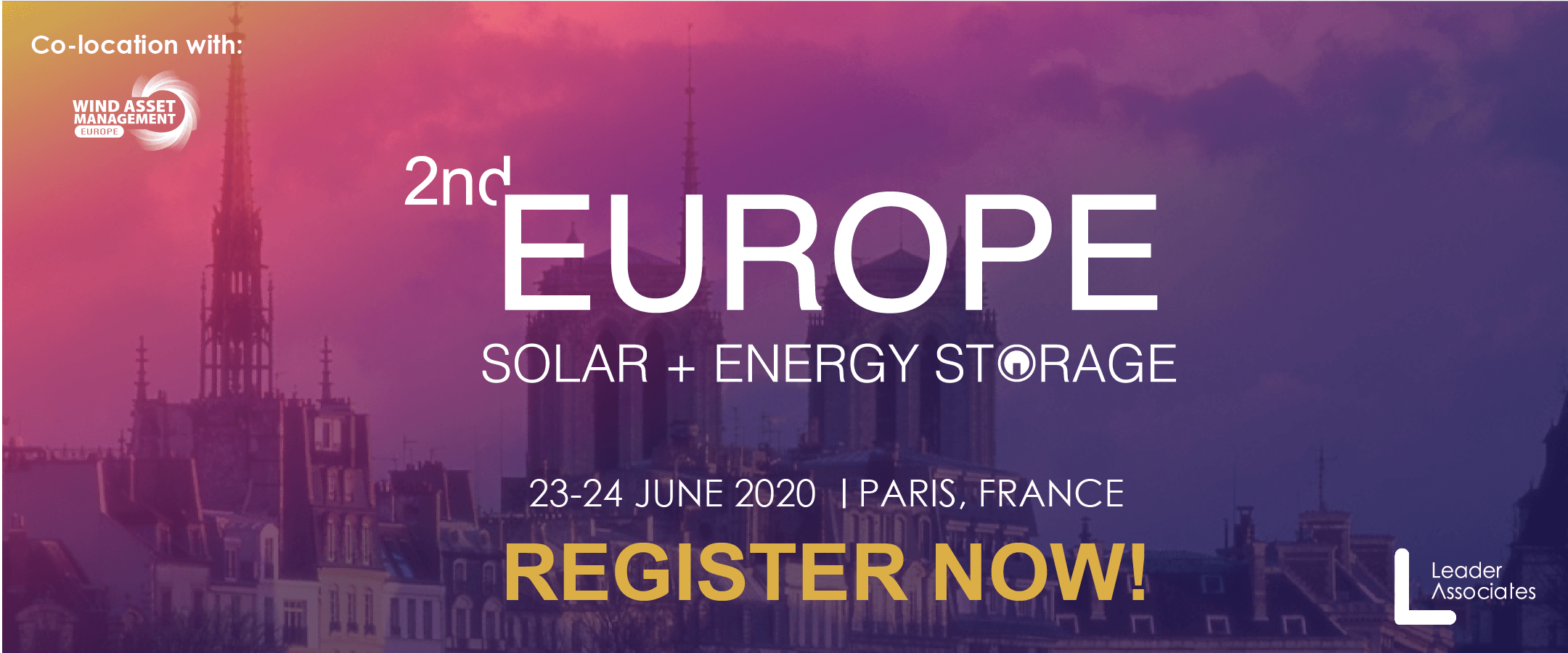 In pursuit of "Renewable Energy Directive 2030" and "32% RE Mix Target", the European market is projected to install a further 150GW of solar, 120GW of wind, and 20GW of storage over the next decade, underlying significant opportunities in competitive auctions, corporate PPAs, floating technology, energy storage, and a comprehensive set of smart solutions to manage grids as well existing and newly-developed projects.
2nd ESES will firstly gather a full high-level industry chain to discuss the orderly planning road map, future flourishment of solar in utility, C&I, self-consumption sectors, storage application as hybrid or ancillary services, as well as investment and financial evaluation over new projects and new technologies. A total of  500+ regional senior industry leaders, including governmental officers, utilities, corporate energy buyers, developers, investors, financiers, solution providers, and learned experts will be brought under one roof and exchange their latest business ideas.
Main Conference Day One
May Conference Day Two
Morning
High Growth Opportunities
Technologies, New Economics, and Play Rules
Afternoon
Country Theater
Also, themed as "Go Green, Go Digital", the 2nd ESES is more than a premium business platform to help navigate the market trends, but rather as a digitaliSed solution itself to perfectly match your business demands.
Digital 1-1 Meeting Platform for Business Matching: Match Online, Talk Offline
More than 500 1-1 meetings are expected to be arranged during the 2-day event through our 1-1 meeting platform, and a discreet 1-1 meeting area will be used for the private meetings. Jublia 1-1 Meeting Platform will send you a unique login link two weeks before the event. All you need to do is just signing in the system, and then you can match other attendees based on your intention and meeting invitations.
Accompanying the rise of social responsibilities among major energy consumers, the 2nd ESES will set a special scene to celebrate and applaud the corporates who made commitment toward clean energy or are on their march toward the 100% RE usage goal, in the name of "Energy & Sustainability Night" Cocktail Reception at 6:00-8:00 pm, Jun 22, Main Conference Day One.
Energy & Sustainability Cocktail Reception: Salute to Corporates with RE Commitments
PPAs are booming in Europe. Starting with data centres, featuring procurement approach by Google, Amazon, Facebook, the trend is now coming after steel, chemicals, aluminium, pharmaceuticals, etc. Up to date, over 8GW of renewables are under merchant PPA, and there will be more, because of the rising responsible social enterprises.
See the Leading Utility, Developer, Financier, Industry Analytic Stakeholders who already confirmed to speak at ESES 2020
Jean- Marc Leroy, Senior Vice President for External Relations, ENGIE – French Leading Utility
Eduardo González, Global Head of Origination, Acciona – Spanish Leading Utility
Daan Terpstra, Team Lead Batteries, Customer, BU Solar & Batteries, Vattenfall – Sweden Leading Utility
Christoph Sutter, Member of the Executive Board, Head Division New Energies, Axpo – Swiss Leading Utility
David Šafář , Head of Grid Management and Strategic Projects, E.ON Distribuce Czech – German Leading Utility
Stephane Tetot, Director, Infrastructure, BlackRock Real Assets – Floating Solar Investor
Benedikt Ortmann, Managing Director, Baywa Solar – Floating Solar Developer
Massimiliano Pili, Head of Engineering and Construction, Encavis – Europe Leading Developer
Edgar Arvizu, VP & Head of Development and Power Marketing, Sonnedix – Europe Leading Developer
Michele Appendino, Chairman and Chief Executive, Solar Ventures – Italy Leading Developer
Yago Acón, Chief Project Development Officer, Nara Solar – Southern Europe Leading Developer
Pablo Otin, CEO, Powertis – Spain Leading Developer
Matt Allen, CEO, Pivot Power – UK Storage Developer
Luca Matrone, Global Head of Energy, Global Corporate Department, Intesa Sanpaolo – Italy Leading Financier
Marco Schweer, Director, Renewable Energy, Global Structured Finance, EMEA, SMBC – UK Leading Financier
Mateusz Wronski, Head of Product Development, Aurora Energy Research – UK and Ireland Leading Research Institute
Michael Salomon, CEO and Founder, Clean Horizon Consulting – Europe Leading Storage Consulting Firm
Please note that starting from 27th February 2020, we are no longer accepting new media partnership proposals. Thank you for your interest!