1 min read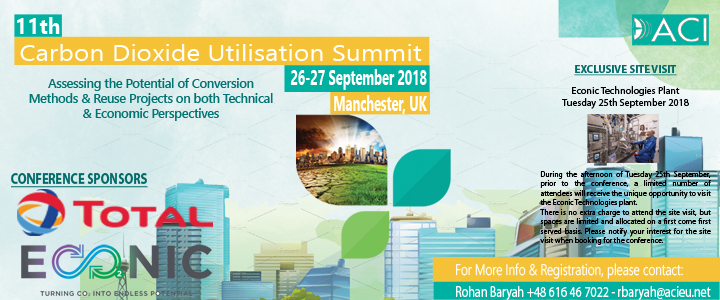 After an exciting & successful edition in Reykjavik last year, ACI's 11th Carbon Dioxide Utilisation Summit is now heading to Manchester, UK on the 26th & 27th September 2018.
During this 6th European edition (11th of the global series), the conference will explore innovation developments and projects regarding CO2 utilisation in Europe, primarily.
After examining global industry matters, such as sustainability, policy & regulation, the role of CO2 reuse in the circular economy and LCA & technico-economic analysis methodologies; the conference will delve deeper into CO2 conversion methods, as well as actual applications/end-products from CO2.
The two days event will offer a series of case studies & interactive panel discussions, whilst allowing great opportunities for all the participants to network and create/solidify great business relationships.
Event Brochure: http://bit.ly/CO2Europe
Event Website:  www.wplgroup.com/aci/event/co2/
For More Information or Registration, please contact:
Rohan Baryah
+48 61 646 7022
rbaryah@acieu.net