The Cannabis Industry Makes Strides Toward Sustainability
3 min read
With the ongoing efforts to push small and large companies worldwide towards a more pragmatic and holistic approach to sustainability, the cannabis industry stands as one of the most significant players on the scene, which is encouraged to deliver effective results and set an example for other brands on board. Cannabis' future is expected to shift towards more sustainable cultivation practices, packaging, delivery, and every other action in the ecosystem with a high probability of impacting the environment.
The largest and most environmentally conscious companies have embarked on their journey to help achieve a more sustainable industry, with practices like generative farming or using renewable energy on their agenda. However, there's still a long way to go until the cannabis industry can proudly tell it has overcome the whole range of sustainability challenges, as contrary to popular belief, the industry isn't as "green" as one may presume.
The cannabis industry is slowly but surely making strides toward minimizing its carbon footprint and reducing the environmental impact on nature.
Let's see where it stands now in the engagement to deliver greener results from which both the environment and earth-oriented consumer can benefit.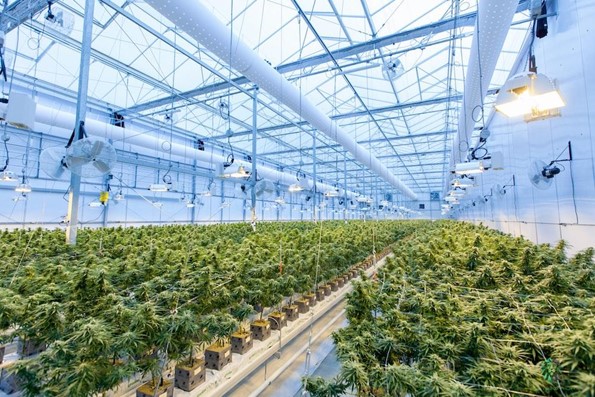 Cannabis companies seeking ways to reduce waste and become more environmentally-friendly
While some industries lag in terms of sustainable development, the cannabis sectors have already developed strategies to minimize waste and introduce sustainability in their production and sales processes. One of the most potent measures taken in this respect is switching the environmentally-burdening plastic package for green packaging that uses recyclable materials. Bioplastics or hemp-based plastic, for instance, use renewable resources and can be easily turned into compost.
Regenerative farming is another milestone in the cannabis industry's strides to meet the United Nations' social development goals. While some agricultural and commercial practices are not as green as they could be, regenerative farming introduces environmentally-oriented growing and harvesting techniques that place biodiversity and soil quality at the forefront of their efforts. One example of such a healthy undertaking is using the plants' native soil outdoors, improving it and preventing its loss of nutrients, thus developing a more fertile ground to maintain generations of plants.
Cannabis cultivated at home to be more sustainable
At-home-grown cannabis makes for a significant portion of the total of the plant consumed worldwide thanks to the convenience of harvesting and the wide variety of cannabis seeds at customers' disposal. While cultivating the plant outdoors may seem like the most sustainable way to enjoy your crop, it isn't always the path to producing high amounts of cannabis, as the climate significantly determines how many months your plant can thrive in the open air.
Therefore, if you grow your plant indoors, know you have several ways to produce sustainable buds. For instance, opting for energy-saving equipment like LED lights can help you minimize the emissions otherwise created by using other lighting sources like high-intensity discharge bulbs.
Because the light received by the cannabis plant is one of the most potent elements impacting how fruitful the crop is, going for autoflowering cannabis seeds can be a great solution to take this issue out of the equation. Autoflowering cannabis seeds flower several weeks after germination, and regardless of how much light you give them, they are quick to generate high-quality harvests.
A revolution in the packaging of cannabis products to accomplish sustainable efforts
Almost any product made with cannabis uses plastic for the packaging, whether we talk about wax, vape cartridge, or simple buds. As such, the delivery process poses a real challenge for the whole industry, which has yet to adopt sustainable packaging methods. Indeed, it's hard to deny the convenience and user-friendliness of using plastic, as it's the best material to ensure ease of transport, carry, storage, and usage, given its lightweight nature. It ticks the required elements with a quality package, like moisture-proof, odor-proof, waterproof, and the list could go on.
However, the need for sustainable packaging is pressing. Yet, some examples can demonstrate it's not an impossible goal to achieve. Industry-leading companies have already prioritized sustainability, encouraging right-size packaging, minimizing the carbon footprint, using renewable energy and localizing supply chains.
Brands' released carbon stands as the most critical issue the environment faces, and achieving better results must be reflected in each step, from the growing to the printing process. Environmentally-oriented businesses place great importance on aspects ranging from the energy consumed to the power used by warehouses.
In light of this, among the most effective transformations that can make a change in the industry's stance on the environment is localizing the supply chains, including using sources from local sites to forming partnerships with eco-friendly businesses found in the vicinity. The less distance the products travel to the customer, the greener the packaging and the whole experience.
Eco-friendly substitutes for plastic to resolve the industry's concerning plastic waste
Besides removing unnecessary plastics and using environmentally friendly sourced paper, companies can take advantage of other packaging options, like tree-free alternatives or recycled paper, with hemp, cotton, and other biodegradable materials proving good alternatives. Similar changes in approach make the business more appealing to partners and pave the way to gaining the loyalty of eco-conscious cannabis consumers.
Another aspect that could use improvement is the way cannabis products are displayed. In contrast to other sectors, cannabis goods get ample shelf space, being shown in safe cases for buyers to evaluate items primarily with their eyes—rather than their hands. This poses challenges for the customer, who could better see the products in other ways, and those responsible for the presentation.
As such, buying goods from online stores can deliver several benefits that over-the-counter purchases don't, including reduced environmental impact, a more accurate description of the products, and peace of mind knowing the products were ethically created.
Final words
Thanks to businesses taking the lead in sustainable practices, there's an open road for more cannabis manufacturers and growers to follow in their footsteps. From ditching the plastic package in favor of recyclable materials to using cannabis seeds and products from companies leading by example, the ongoing efforts to develop an industry that can rightfully claim to be green continue.