6 Eco-Friendly Upcycled Interior Design Ideas
2 min read
For many people, "upcycling" brings to mind images of wine bottle candles, tin can cutlery holders, and badly painted drawers. Amongst aesthetes, it hasn't always got the best reputation! But upcycling is being embraced by an increasing number of interior designers, and there's a lot more to this eco-friendly design trend than you might think.
To prove that upcycling can be totally Vogue, we've put together some chic DIY projects. Sustainably stylish and perfect for creating interior haute couture on a budget, we're ready to lap up (almost) everything upcycling has to offer.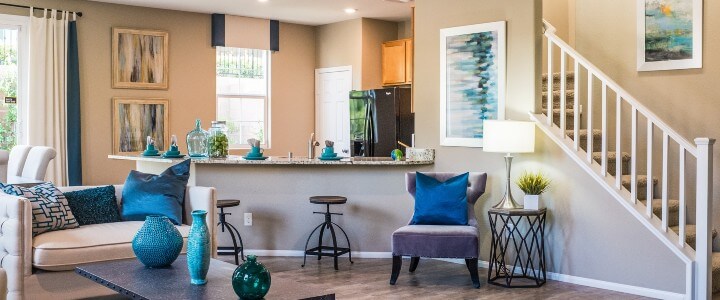 1. Food Waste Dyes For Dull Linens
Household linens are essential, but if you're tired of creams and whites, you might not be using yours too often. Rather than leaving them for the moths, upcycle them with food-waste dyes. This sustainable project both reduces organic waste in your kitchen and puts your old linens to good use, making it a fantastic eco-interior project.
To create your food-waste dyes, combine one part of food waste with two parts of water and boil for at least an hour. The scraps of food should be almost colourless once the dye is ready, letting you know all of the rich colour has transferred into the water. Soak your fabric in a water and vinegar solution before adding to the dye and leaving it to colour. The longer you soak your linen, the more intense the final shade will be.
2. Bespoke Art For Your Drawers and Units
Not every upcycling project has to be DIY. There's nothing wrong with hiring a professional to breathe life into an old piece of furniture. One professional upcycling trend we've fallen for is commissioning an artist to paint your furniture, creating a legitimate piece of artwork for your home. This works best on chests of drawers or units, where the artist has a large, flat surface to paint on.
Of course, this isn't as budget-friendly as DIY upcycling projects. But, there is a sneaky way to fund your project without having to worry about money: an equity release mortgage. For interior renovations, it's a fantastic way to bring your ideas to life without budget constraints or monthly repayments.
3. Open-Front Wardrobes
Old, clunky wardrobes can become a real eye sore. But painting them is one of those overused upcycling trends that doesn't always end well. A more unique option to create a contemporary interior is to remove the doors of your wardrobe altogether, creating an open-front unit to work with. You can keep it as a wardrobe, colour coordinating your clothing for a beautiful display of fashion. Or, add shelves and turn them into a display unit or bookcase.
4. Rag Bunting For Children's Room
Rag bunting makes for adorable, eco-friendly decor in children's rooms. Soft and rustic, it has a cottagecore charm that's all the rage right now. Upcycle old bed sheets, clothing, and linens, cutting them into 20" long and 1.5" wide strips. Attach them to a length of twine by either sewing or tying – simple!
The trick to making this look chic is being careful with the colours and textures of your fabrics, ensuring they complement each other for artfully upcycled bunting.
5. Ombre Effect Wood
Ombre effect wood looks gorgeously unique and is a contemporary way to upcycle dull wood. But, it isn't always easy to get right. If you're not artistic, we'd recommend giving this technique a try on some old planks of wood before applying it to any real furniture. It's also easier to use a large, flat surface, such as a wardrobe than a more complex shape, like a chair.
Begin with your darkest shade at the bottom of the wood. As you move up, transition into lighter shades, working with subtly different tones to create a seamless transition. An easy way to do this is by adding a white or cream to your initial colour, slowly increasing the amount as you work up.
Around halfway to three-quarters up your wood, finish your ombre with your lightest shade. A raw, uneven edge looks far better than a neat, sharp finish. Voila, your wooden surface is transformed!
6.  Shop With Upcycling Designers
If you've tried DIY upcycling and it just isn't for you, you don't have to go back to unsustainable ways. Instead, you can invest in gorgeous upcycled furnishings and decor crafted by artisans. Many of these pieces look like works of art and are perfect if you want to create a unique home.
Here are a few of our favourite upcycling designers of 2022:
Final Words
Creating a beautiful home that's in line with your sustainable values isn't always easy. But, with a touch of artfully completed upcycling, you can come closer to achieving that goal! These tips should give you some inspiration to get started and help your creative juices begin to flow for beautiful, eco-friendly interiors.