How tapware technology can stop billions of plastic bottles reaching landfill
1 min read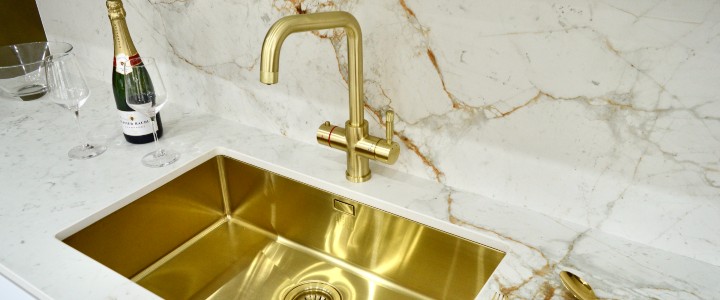 Kulvinder Tank, director at Fahren UK, one of the UK's leading OEM's for instant boiling water taps discusses how innovative tapware technology is providing a more sustainable choice to families and businesses across the UK.
Following COP26 and the launch of the Environment Act, which became law last year, there has been a huge focus on waste and sustainability, with a crackdown on unnecessary single use plastics. Items that were used every day, at home, in schools and in businesses such as plastic straws, cotton buds and stirrers are now banned in the UK.
However, one of the biggest culprits of plastic waste continues to be plastic water bottles and coffee cups with lids.
It's quite jarring to think that every piece of plastic ever created, is still in the world somewhere! As a tapware manufacturer and designer, how a product can positively impact the environment has to be a key driver for the brand.
There are currently 19.4 million families in the UK. If every family decided to buy just one six pack of bottled water a week, at the end of the year, over six billion single use plastic water bottles would have been discarded.
When nearly half of all plastic packaging isn't recycled by households, that's a lot of plastic going through traditional waste disposal routes which could end up in landfills, reach the waterways and oceans, destroy wildlife and leach into soils. Instant hot and cold filtered water taps can help prevent people buying bottled water in the first place, and therefore they reduce the amount of plastic waste generated!
Convenient and sustainable
Kitchens are the busiest spaces in a house, so convenience and ease of use is what makes the 4-in-1 hot water taps so popular. Having instant hot or cold filtered water on hand to fill up reusable drinking bottles or reusable coffee cups, can effectively eradicate the need to purchase single use plastic bottles.
Not only does it save on plastic waste, but it saves the customer time, counter space, and over-time money. It really is the choice for convenience and for the environment. If we can help reduce some of that plastic waste by being the nation's favourite sustainable taps, we'll be happy!
In addition, instant boiling water taps save on water consumption as you will only dispense the amount of boiling water needed at any time. How many times have you boiled a kettle, not used all the water then emptied it, to refill with fresh water?
Healthier alternative
We have also had an increase in customers asking about the filtered cold-water feature, especially with summer temperatures hitting 30 degrees in some parts of the UK! One of the main reasons people choose to drink bottled water is that they believe it is healthier than drinking straight out of the tap.
Having a water filtration system as part of the taps features, also solves that problem. It reduces the effect of limescale and keeps drinking water fresh for over 1000 litres.
Green tech awareness across the supply chain
While many of our customers come to us direct, we are encouraged that the sustainability message is spanning the supply chain with architects, builders, property developers, kitchen designers and plumbers actively suggesting instant hot/cold water taps, either early in the design stages or during renovations.
As a sector, we can all do our part to make more sustainable choices and drive a culture of sustainable innovation.
Fahren UK is based in Oldbury, West Midlands. Kulvinder Tank holds a MSc in bio-chemical engineering and has extensive knowledge in water purification technology.