How To Pick The Right Venue And Tools For Sustainable Events
2 min read
Festivals and events are among the leading offenders in affecting the environment. When planning an event, sustainability is frequently not a primary priority, whether it be when making overseas travel arrangements or publishing a tonne of slick brochures. Did you ever notice that each event participant generates about 1.85 kg of trash, the majority of which is disposed of in landfills? On the other hand, garbage and waste at a music event account for 23,500 tons.
Organizing a sustainable event enables you to reduce trash and resource consumption, which lowers costs. Planning green events regularly will also prevent buying new supplies over time, which will result in more financial savings. According to the Event Manager Blog, conference participants produce or contribute to more than 4 pounds of garbage per day. Currently, sustainable event planning is so popular that it has transcended trends. Following are ways to help you in picking the right venue and tools for organizing green events.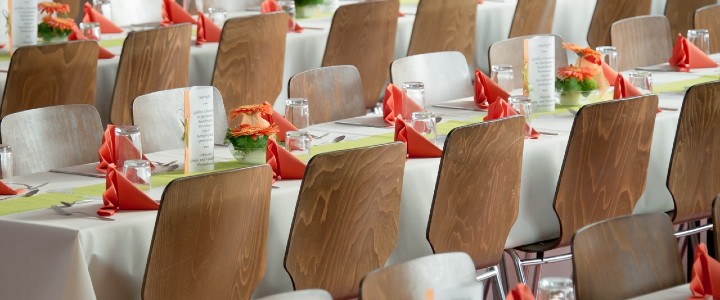 1.  Choose A Venue That Is Environmentally Friendly
Finding a sustainable venue requires taking the location into consideration. It makes no difference how environmentally conscious the venue management is or how ecologically responsible you are if your attendees or visitors have to fly or drive a considerable distance to reach the spot. Consider renting a property for your venue that should be reached by a short ride. Transportation plays a major role in spreading air pollution and affecting the environment. Therefore, a venue that is close to the transportation hub can at least reduce travel time for attendees.
2.  Make Sustainable Event Tools A Priority And Reduce Paper Consumption
Over the past 40 years, almost two million trees have been felled to create the paper for use worldwide. There is a lot of paper being used to organize events, from menus and flyers to banners, worksheets, and other printables. You can reduce costs and make your event more sustainable by choosing digital and environmentally friendly event tools. The translation system is one of the sustainable tools that can help translate your event content into multiple languages if you are organizing an event on an international level. You will be able to communicate with the expanding network and explain the concept of your event with its assistance.
3.  Renting A Renewable Energy Venue Is A Good Choice
An increasing number of venues are now employing renewable energy for their structures. Thus, picking a location that employs solar energy might be a smart choice if you want to emphasize the sustainability of your event. A list of alternatives satisfying your event requirements might be put together with the assistance of free venue finders or providers of event management services.
4.  Enhance The Sustainability Of Food Service And Event Decor By Using Eco-Friendly Materials
Recent years have seen a huge increase in the demand for green decor. There has been an upsurge in green design at events or festivals, including the use of recycled paper decorations and ecologically friendly materials like reused pallets. Additionally, you can hire sustainable decor service providers for your gathering. On the other hand, the refreshments you provide for gatherings can produce a lot of trash, raising the carbon footprint of the event. In this regard, if possible, deliver leftovers to orphanages and pay attention to the food menu.
5.  Assure That The Venue Has A Strong Commitment To Sustainability
Last but not least, when selecting a location for sustainable events consider how seriously the location takes becoming green. Assess the venue's commitment to sustainability, as well as its seriousness or responsibility towards following your environmentally friendly guidelines.
Final Thoughts
Recycling and energy efficiency are not the only components of organizing a sustainable event. Are there visitors from outside the area? Minimizing your total impact may be greatly helped by using sustainable transportation to the event. Take all aspects of your event into consideration when organizing it for sustainability.
References