Analyzing The Effectiveness Of Flexible Solar Panels
4 min read
The season of summer is here at last, and it's as hot and humid as it gets.
Well, when you are living on the north side of the United Kingdom, you'd probably welcome summer as a part of your family. However, if you belong to somewhere in the midwest, like London or Cambridge, you probably hate the prospect of the upcoming "dog days."
Nonetheless, when it comes to summer, the scorching humidity isn't the only threat you have to be aware of, though. With the ever-rising heat, the prospect of rising electricity bills should also be a concern, especially for middle-class families.
So, what's the solution?
In our opinion, using solar panels can be an excellent way to offset the threat of increased energy costs. Besides, it can also lower the carbon footprint on the environment and contribute to energy independence for the users.
But, there's a hitch!
A traditional or rigid solar panel tends to be pretty heavy. Therefore, if you place too many of them on the roof of your house, it might affect the structure of the same. Besides, installing this type of solar panel is quite tricky to install as well.
Don't worry, though. We've got a solution for you in this aspect too.
Instead of going for a rigid one, you can opt for flexible solar panels. As their name implies, they are flexible, bendable, and can be installed almost anywhere.
Oh, did we forget?
If you want, you can also carry them in your bag or pocket, as they are pretty lightweight and, therefore, don't cause any inconvenience.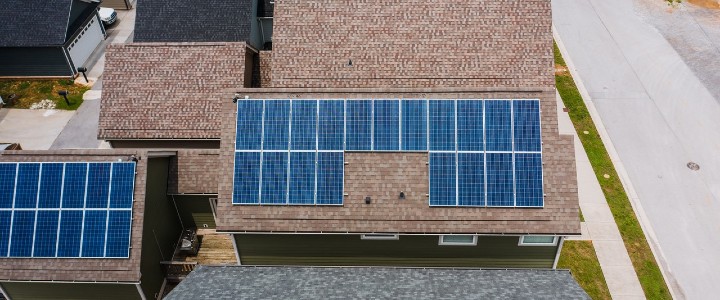 Flexible Solar Panels – Taking A Look At The Obvious
Stating the obvious – while their operational procedure is quite similar, a flexible solar panel tends to be quite different from a rigid model.
For example, unlike the latter, they feature a plastic-made, lightweight frame, which can be bent or carried as you please.
Besides, the thin-film panels of the same are manufactured with copper, gallium, and selenium. Thus, their efficacy in converting sunlight to electricity is pretty admirable.
Nevertheless, that's not where the advantages of flexible solar panels end, though. There's a lot more to it. Keep reading this article to learn more about this context.
What Are The Benefits Of Flexible Solar Panels?
Thanks to their overall structure and design, flexible solar panels can be advantageous in several aspects. The following are a few of them.
Benefit – 1: Easier Installation
Unlike a rigid solar panel, you don't have to do any manual labour while installing a flexible module. There's no need to think about wiring, keeping supportive beams, insulating your rooftop, and working on other aspects.
Instead, you can simply stick them onto your rooftop – just like that. You don't have to make any changes to your house or worry about structural damage at all.
Benefit – 2: Ideal For Remote Workplace
Most work environments tend to require heavy electricity, especially if it belongs to the tech industry. But, due to the price or the office structure, they don't get access to grid power.
Besides, generators are becoming somewhat unviable as well, as they choke down too much fossil fuel at once. Also, the issue of spewing out carbon emissions is pretty problematic too.
Nonetheless, as the flexible solar panels are portable, you can literally carry them from your house to your office. There would be no issue regarding installation or setup as well.
Benefit – 3: Inexpensive
The price of a flexible solar panel is yet another aspect that makes it much better than its rigid counterpart. In this aspect, you can get a 100W module just by paying USD 100 or so.
Also, as there's no installation cost, you can simply save a considerable part of your budget altogether. You may also find flexible solar panels at lower than USD 100, but we'll suggest you not to use them.
Are There Any Disadvantages, Though?
Well, like anything else, it's not really "all-white" for the flexible solar panels. In some cases, they can seem a little more disadvantageous than a rigid model.
Here's what you need to know about them.
Power Output: In essence, the size of a flexible panel tends to be somewhat lower than a rigid one. It, in turn, can affect their overall power storage and generation. Due to this reason, you will not find any flexible panel with over 300-watt anywhere.
Longevity: Besides, they are much less durable than any other form of solar panel. For example, a flexible solar panel comes with a maximum warranty period of five years. On the contrary, a conventional module can last for around 20-25 years.
Overall Efficiency: A flexible panel can only convert somewhere about 7% to 15% of the energy, compared to 20%-23% grasped by the standard panels. However, their efficacy increases in a lower-light situation.
Where Can A Flexible Solar Panel Be Used?
Due to their portability and inexpensive price structure, flexible solar panels can be used almost everywhere. Nonetheless, they are generally used in –
Camping trips, as the primary power bank of your tent. You may also roll and store them when you are not using them.
Yachting or boating trips, as the replacement of a generator. This way, you won't have to worry about the fish running away due to the sound of the machine.
Power backup, to ensure that your phone's battery is fully recharged even when you are on the road or travelling to the country.
An RV, to go on long-distance travel. It helps you get rid of the noisy generator and enjoy the ride more than anything else.
Rooftop solar, to light up your house for a prolonged period. Although it is unable to provide as much efficacy as a traditional one, it's still a viable option for a home.
Additionally, as mentioned before, a flexible solar panel can be used to light up an official environment as well. Even so, you may have to invest a little more depending on the size of the room and the number of tech products available.
Considerations To Make Before Buying A Flexible Panel?
So, are you considering investing in a flexible solar panel? Well, congratulations then. It's, indeed, an excellent move on your part.
However, making a decision will not be enough for you to rest easy. If you want to buy the best product available out there, you have to consider a few aspects.
The following are a few of them.
Power: The power of a model will depend on where you want to use it. For example, you should buy a 100W flexible solar panel if you're going to keep it on your boat. It'll offer you a backup of two-three hours at most. Conversely, a 300W model would be ideal to power up a house. The number of panels will increase depending on the size or appliances (that require electricity) available in your home.
Durability: Scientifically speaking, a model made with ETFE plastic offers higher durability. However, in this aspect, the weight of the product might be a little high. On the other hand, regular plastic will be less weighty than the previous option. But, the durability will not be on par at all.
Warranty: Finally, like any other tech product, before you buy a flexible solar panel, you have to learn about its warranty as well. As a rule of thumb, you should always opt for something that comes with at least a 2-year warranty. Now, on top of that, the more you get, the better it is for you in terms of investment.
FAQs – Frequently Asked Questions
In this section, we'll discuss a little about the queries that you may have regarding the titular topic. Let's get started with it, then.
How Efficient Are Flexible Solar Panels?
Well, due to their small size and structure, they cannot offer the same efficacy as a traditional model. Nonetheless, unlike the latter, they can work much better in low-light conditions. In addition, if you have bought a transparent module, it'll be much more productive than usual.
How Do You Test The Effectiveness Of A Solar Panel?
When it comes to testing the efficiency of a solar panel, both flexible and conventional, be sure to use an amp metre. Attach it to the module and take it under the sunlight. The count on the "positive" side will refer to the overall "effectiveness" of the product.
Are Flexible Solar Panels Worth It?
Yes, they're definitely worth the hype. For starters, they're much more efficient, considering their size. The overall output of the same tends to be much higher as well. Also, they are a lot more adaptable due to their structure and design.
Flexible Solar Panel – Yay Or Nay?
If you want to lower your electricity bill and reduce your carbon footprint, flexible solar panels are definitely a "yay!" for you. In our opinion, it offers more flexibility, can be used everywhere and is portable too. They are literally convenience redefined, no?
In any case, we'll be concluding our article here and now. If you have any queries regarding our topic or anything related to it, let us know about it in the comment section. We will get back to you as soon as possible.